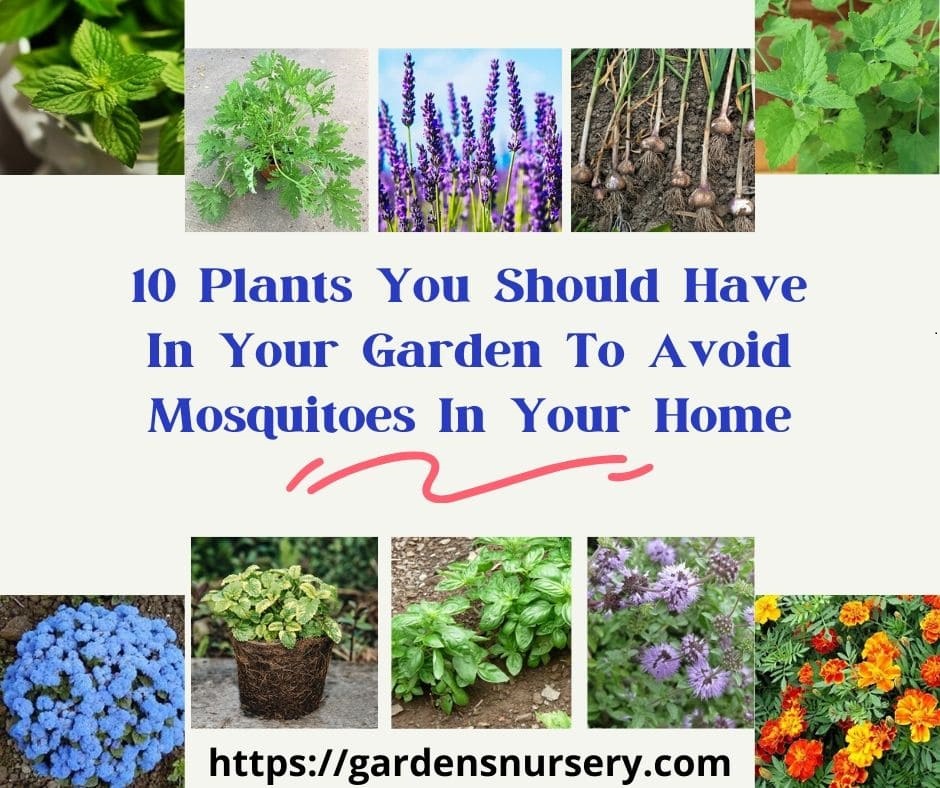 Mosquitoes are nuisance blood-sucking insects that can cause and spread bacteria, virus, and other types of germs. Once they start breeding in standing water, female mosquitoes can lay hundreds of eggs and continue laying eggs in their lifetime. So, it's important to keep mosquitoes away from your home.
One of the best ways to deter them from entering your property is by planting Plants Mosquitoes Repellent. These plants are natural, highly beneficial, safe, and effective in driving away disease-causing mosquitoes. In this article, you'll learn the best plants you should have in your garden to avoid attracting mosquitoes from entering and inhabiting your home.
Avoid Mosquitoes – Important Reminders For Plants to Repel Mosquitoes
Mosquitoes won't repel on their own having mosquito-repellent plants around. Aside from planting these plants in your garden, you also need to follow other measures to prevent mosquitoes from breeding in your home totally.
Check out these effective measures along with having mosquito-repellent plants in your garden to avoid mosquitoes in your home:
Get rid of standing water in your yard to avoid mosquitoes from hovering around. Birdbaths, pools, and standing water in your plant pots could be ideal breeding grounds for mosquitoes.
Apply a mosquito repellent lotion to your skin, most especially if your area is prone to have mosquitoes around or infection cases arise transmitted by these nuisance insects.
Call a professional Mosquito Control company to eliminate a large number of mosquitoes in your property.
Plants Mosquitoes Repellent You Should Have in Your Garden
1. Citronella
You probably heard or seen the term "citronella" in candles and mosquito repellents. Citronella plants low maintenance plant and looks like large, spiky ferns that belong to the geranium family. It is actually a type of mosquito-repellent plant possessing a strong scent, which masks the smell of carbon dioxide and other attractants. Other types of citronella plants variations include citrosum and citronella grass.
Read more: How Do I Control Pests in my Garden?
Citronella Mosquito Repellent Live Plant
Repel Mosquitoes Feature
Citronella, when taken care of, is a beautifully branching plant boasting a great scent. Cutting back the plant will keep it from getting leggy, and will allow for more growth. Plant citronella about 1.5′ apart to stop the plants from growing leggy to compete for light.
2. Peppermint Plant
Peppermint is a popular herbal plant with calming effects and is used in treating flatulence, diarrhea, nausea, menstrual pains, indigestion, common cold, and muscle and nerve pain. It's also a mosquito-repellent plant toxic to mosquito larvae and can even repel spiders. This plant grows one to three feet tall, thrives well in sunny areas, and needs damp soil.
Bonnie Plants 4P5081 Peppermint Live Edible Aromatic Herb Plant
Grow Peppermint Indoor Plants
Bright green leaves with minty scent and taste
Harvest often for a bushier plant
Use in tea and other beverages
Good choice for containers, as the plant spreads easily and can take over the garden
3. Marigold Flowers Live Plants
Marigolds are beautiful, ornamental border, hardy plants with a distinctive scent that humans love but mosquitoes find particularly offensive. This plant contains a compound called Pyrethrum, used in insect repellents. Here are some tips when using marigolds to ward off mosquitoes in your home:
Position potted marigolds near entrances, open windows, and other possible entry points. The scent of marigolds deters mosquitoes from entering your home.
Avoid placing potted marigolds on the table because bright blooms tend to attract wasps.
For healthy marigolds, plant them on fertile soil with full sunlight as much as possible.
Grow The House Plant That Closes Its Leaves When You Tickle it. Fun for Your BFF Best Friend, Friends or Co-Workers It Even Marigold Flowers
Grow Marigold Flowers Indoors
ALL-IN-ONE GIFT BOX. 4 inch flower pot, soil wafer, 10-20 seeds, and a card with 10 fun experiments.
EASY TO GROW. Thrives all year round, even in winter, and bloom lovely sparkling flowers.
UNIQUE FRIENDSHIP OR BIRTHDAY GIFT Or Valentine's Day Gift. An ideal present for kids and adults who love science and nature. Great for a Friend or Co-worker!
4. Catnip Plant
Catnip is a perennial herb related to mind, which is easy to grow. Mosquitoes find the scent unpleasant, keeping them away from your home. Catnip is also used in commercially prepared mosquito repellent products.
According to a study presented by the American Chemical Society, catnip is effective Plants Mosquitoes Repellent, even more, effective than DEET. DEET or N, N-diethyl-meta-toluamide is an active ingredient found in many mosquito repellent products. Catnip contains nepetalactone, which is a chemical found to be ten times more effective in repelling mosquitoes than DEET.
Live Plant 3 Inch Pot Catnip Nepeta Inside or Outside Garden House Plant
Grow Catnip Nepeta
Use as a treat for cats, who love to smell and rub against its leaves
Mature Height: 18″
Plant in sun or part sun
Also makes a wonderful houseplant
5. Garlic Plant
Human beings have long been using garlic in deterring mosquitoes. Also, you can eat garlic leaves, making these nuisance insects avoid you due to the garlic scent. Planting garlic in your yard provides a strong smell for the lingering mosquitoes, and it will be driving them away from your property.
GARLIC BULB (2 Pounds), FRESH CALIFORNIA SOFTNECK GARLIC BULB FOR PLANTING
Grow Garlic Plant in Garden
A great tasting healthy. Heirloom, Non-GMO
Easy to Grow and Harvest from Bulb
Great Producer–Lots of Bulbs per plant
Better Than Anything in the Store
Buy only Country Creek Brand by Country Creek–Not Chinese Counterfeits (be careful)
6. Lavender Plant
This sweet-smelling plant is a common garden favorite, but not for mosquitoes. It's a good thing that mosquitoes dislike what humans find as pleasant scents, which includes lavender plants. Aside from planting lavender plants to avoid mosquitoes hovering around your home, you can use it as a natural mosquito repellent. Placing a few drops of oil in your wrists and ankles help prevent mosquito bites.
7. Pennyroyal Plant
This plant is a potent mint species, and too much oil can be toxic to both humans and animals when consumed or absorbed by the skin. However, you can grow pennyroyal carefully to benefit from its mosquito-repellent property. It's actually one of the most effective plants that can drive away mosquitoes.
8. Basil Plant
Basil is a popular kitchen ingredient that adds amazing flavor to favorite food recipes. Aside from being a famous spice herb, basil plants can repel pesky mosquitoes because of their strong scent. You can make a natural DIY mosquito repellent by boiling fresh basil leaves with a half-cup vodka, and pour the cooled mixture into a spray bottle. Spray it to your outdoor living space to repel mosquitoes.
Bonnie Plants Sweet Basil (Genovese) Live Herb Plants – 4 Pack
Growing Basil
Large leaves with intense flavor & a wonderful aroma
Garden use: Containers, herb beds, flower beds
Culinary use: Italian & Asian dishes
Plant in full sun for the best yields
Plant after last spring frost
9. Lemon Balm Plant
Lemon balm is a versatile herb, effectively used in calming the nerves, promoting restful sleep, and reducing digestive stress. Also, it's every homeowner's best friend because the compounds found in lemon balm can be one of the best repel mosquito plants. Here are the good things that you should know about lemon balm:
The leaves of lemon balm have a rich, lemon smell and contain citronellal, resembling citronella oil, a well-known herbal repellent.
Make a lemon balm mosquito repellent by crushing a handful of lemon balm leaves and then rub them on the skin.
Growing lemon balm plants near the backdoor or in the garden is a good idea. You'll have fresh lemon balm leaves handy whenever you need them.
The Three Company Live Herb 4.5″ Aromatic and Edible Lemon Balm
Edible Lemon Balm
Perfect gift: Give the gift of health and beauty to your loved one. This beautiful living herb combo is the perfect gift for the plant lover in your life. Great for any occasion, as it provides an amazing flavor to any recipe, as well as has some great aromatherapy benefits, all while adding a beautiful live touch to any environment
10. Floss Flower
Garden lovers love floss flowers because they come in beautiful, different colors, such as pink, blue, purple, and white. Aside from the excellent visual addition to your garden's flower bed, their scent is unpleasant to mosquitoes. This beautiful plant contains coumarin, a chemical also used in Plant mosquito repellent products.
AeroGarden Gourmet Herb Seed Pod Kits, 3-Pod to Grow Catnip
Grow Catnip Indoors
PLANT TO PLATE – Non-GMO seeds; No herbicides; No pesticides. Harvest herbs directly from the plant for use in your favorite recipes.
COMES WITH EVERYTHING – Also includes a 3 oz bottle of patented, specially formulated Liquid Nutrients, grow domes for optimal germination, and a Growing Guide with step-by-step instructions.
Conclusion
There are many Plants Mosquitoes Repel you can choose from to plant in your garden to avoid mosquitoes. Citronella, peppermint, marigold, garlic, lavender, pennyroyal, basil, and catnip are just a few examples. Their scent is strong and unpleasant to mosquitoes, warding them off from your home.
Planting these mosquito-repellent plants is a good idea, along with other measures, to completely eradicate your problems with mosquitoes. Keep your home clean and remove stagnant water, which are potential breeding and laying grounds for mosquitoes.
Grow The House Plant That Closes Its Leaves When You Tickle it. Fun for Your BFF Best Friend, Friends or Co-Workers It Even Marigold Flowers
Grow Marigold Flowers Indoors
ALL-IN-ONE GIFT BOX. 4 inch flower pot, soil wafer, 10-20 seeds, and a card with 10 fun experiments.
EASY TO GROW. Thrives all year round, even in winter, and bloom lovely sparkling flowers.
UNIQUE FRIENDSHIP OR BIRTHDAY GIFT Or Valentine's Day Gift. An ideal present for kids and adults who love science and nature. Great for a Friend or Co-worker!