Bonsai Plants To Relax And Getaway
Bonsai Plants To Relax And Getaway
Bonsai plants are truly wonders of art. They can be shaped into miniature variations of real-sized trees, such as pine trees. One only has to have enough time to give, in order to make them beautiful and very unique.
However, bonsai trees also offer something that most gardeners crave, and that is stress relief. Many studies have been conducted on how gardening can help people get away from their hectic lives and bonsai gardening is no different. By learning more about this ancient art people can begin to be more stress-free in their lives.
Investing Time Into The Art Of Bonsai Gardening
Bonsai gardening can offer so much for those who decide to invest time in the art. A sense of accomplishment that may be missing in one's life can be realized from tending to a bonsai garden, or any other type of garden.
Plants, trees, and shrubs can make a home beautiful, but they can make a person healthier also. By physically working in one's garden they are taking a proactive step to a healthier lifestyle. A person can make their home beautiful by gardening and help to make their body healthy in the process.
Relax And Getaway From A Busy Life
Growing a garden full of bonsai plants offers a way for a person to relax and get away from their busy lives. Plants trees and shrubs that remain in the ground outdoors only need a little help. A bonsai garden, though, needs constant attention. Careful pruning of foliage and roots are needed along with consistent watering.
These are just a few aspects of bonsai care that are necessary. Tending to the bonsai garden can help a person to step away from their daily, busy schedule to take care of their bonsai trees and plants. This type of gardening provides a natural form of stress relief and peace of mind that many would pay to have in their daily lives.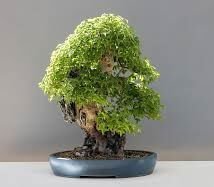 Bonsai Plants
Bonsai plants offer benefits for their caregiver that one may not have thought possible. Not only is this hobby quite peaceful, but it is also a living art form. Unlike a painting, bonsai art needs constant love and attention to achieve its full beauty. With one's loving touch a bonsai garden can prove to be the centerpiece of one's home.
Just as the ancient concept of Yin and Yang go hand in hand, so do the gardener and the bonsai tree. Each needs the other in order to be better. The trees thrive and the gardener lives a more satisfying life. Gardening with bonsai plants has never been so Zen.
Follow us on: Twitter, Facebook, Pinterest, Instagram