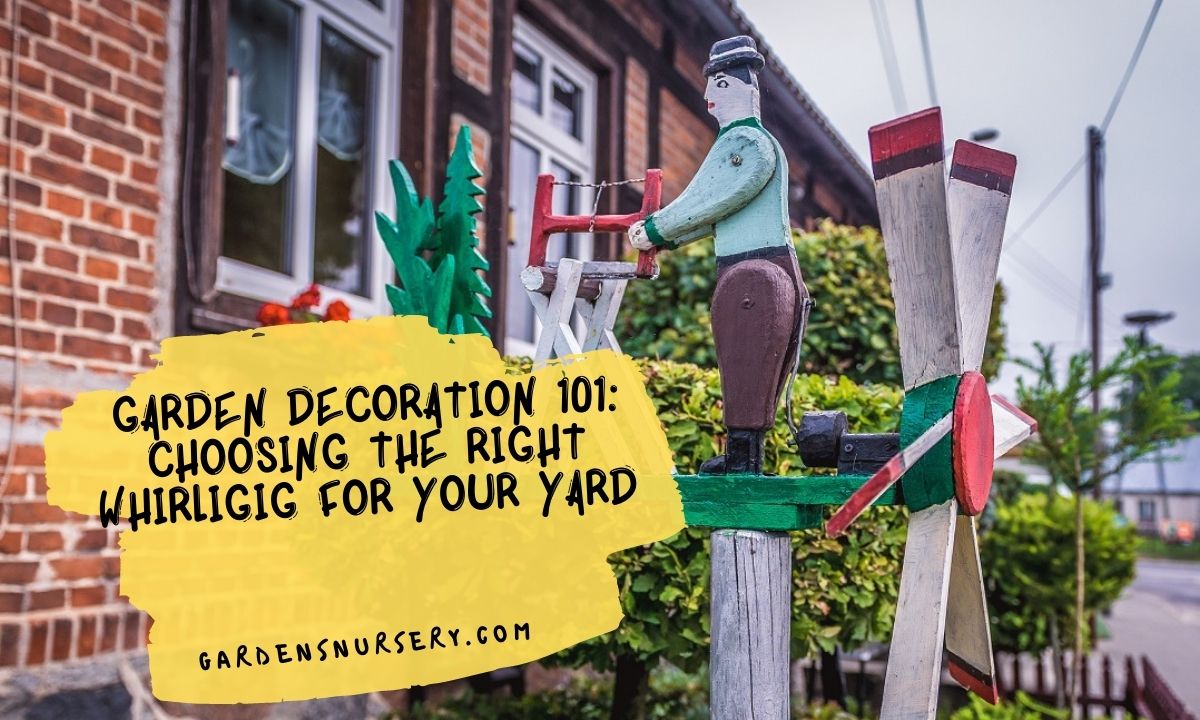 When it comes to home improvement, the yard is something you wouldn't want to skip. It's out in the open and what most people see when they come by your home. If you're looking for the perfect outdoor swing set for your yard, don't forget to consider the right whirligig. A whirligig is a type of blade that spins on a shaft in order to create a vortex or corks.
Landscaping and gardening are great ways to beautify a yard, but it doesn't have to stop there. Adding furniture and decorative pieces can make such a huge difference. There are many types of decorative pieces like statues, water features, and even garden bridges. Even simpler decorations like clay pot décor, birdhouses, and signs are great additions. You could even add something as simple as a whirligig.
What's A Whirligig?
Essentially, a whirligig is any mechanical object that was made to spin. Some examples of these are pinwheels, pinners, weather-vanes, and other similar items. Depending on how they were built or designed, whirligigs can spin because of the wind, motors, physical exertion, and friction.
For the garden, a whirligig isn't just used as a pretty ornament that could add color and design. It also has a practical function in your garden. When the whirligig spins, the sound and vibration can move into the ground to drive away any pests that burrow in your garden or yard.
If you want to add whirligigs to your yard because you like how they look and want to deal with some pests like rodents, here's a quick guide to help you out.
Learn More About Their Costs To Work Around Your Budget
The first thing that you'll need to remember when choosing the right whirligig is your budget. Depending on the design, material, and size, their costs can vary. Garden spinners can be priced as low as USD$25 up to almost USD$200. But it depends on where you're shopping, as handmade ones or even vintage might cost you more.
Single spinners that stand at around five inches and below are usually the most affordable. They might have a simple design like a flower, sun, or a regular pinwheel. For a limited budget, these are perfect to put in pots. They also make a beautiful impact if you scatter many of these simple whirligigs all around your yard.
Ones with multiple spinners and intricate designs, especially how the wings spin, are on the pricier side. These are also larger and can measure anywhere between 15 inches and over 30 inches. But their prices are also on the heftier side since they can cost you anywhere over USD$100 or USD$200.
Consider Your Garden's Theme
As a decorative piece, looks are an essential consideration. If you're in the process of transforming your garden, you might be brainstorming how you want it to look. But if your garden already has a theme going on, you might want to consider this as you choose the right whirligig.
If you have a more whimsical or fairy-like garden with gnomes and mushroom décor, going for an antique wooden whirligig could add to that overarching theme you already have going on. For a more modern and sleek style, minimalist whirligigs made from bronze can look more sophisticated. Whether you want a natural finish to show off the material, ones that are painted with more color are something that will match your garden's design.
There are even some exciting designs to choose from not just the usual birds, windmills, and flowers. Some creative ones look like bikes, airplanes, boats, ballerinas, carousels, and more.
Be True To Your Personal Taste
A theme is a great guide to help you pick out colors and décor that will fit your garden. However, this isn't something that you always need to follow, especially if you have different tastes in decorative pieces.
If you see something that just tickles your fancy, then that's a great sign that the whirligig is the perfect choice for you. Sometimes a theme can just constrict your personal taste, so you might want to just go for different pieces and collect all kinds of styles. Doing this can help your garden not just stand out but also shows off your eclectic style. As mentioned, designs can vary, and you can be as creative as you want with the kinds of whirligig you can choose for your yard.
Think About The Size You Want
Next up is choosing the suitable sizes, because it can affect how it fits in with your garden or yard. For this, it's essential to consider how big your garden is.
If you have limited space, getting a spinner that's way too big is just going to be impractical. You can choose one medium-sized whirligig as a sort of centerpiece and surround it with smaller ones. You could afford to place some larger pieces for a spacious garden or even scatter smaller whirligigs to make them look like flowers that just popped out like daisies.
Either way, it's crucial always to measure the dimensions of the whirligig and see how it'll fit in the area. This way, you won't have to worry about returning it after you've ordered it. And best of all, you can achieve the right look you want, with the perfectly sized spinners in your garden.
Consider Doing It Yourself
If you're the creative type or simply enjoy crafting things, you might want to make the whirligig yourself. The most challenging part is to make sure it spins correctly. There are plenty of instructions and tutorials on the internet that could help you out.
The great thing about DIY whirligigs is that you can develop the design you want, and it'll be unique to you. You can even get bragging rights for creating something all by yourself.
Conclusion
When it comes to garden décor, there are so many pieces that you can choose. Some of these are merely ornamental, while some have a more practical purpose. One of the pieces that aren't just pretty but also functional is whirligigs. These moving features in a garden could add a whimsical, fun, or even sophisticated touch to your yard, depending on the design you're going for.
When shopping for a whirligig, remember that these are usually handmade, so they can vary in price depending on the quality and intricacy of the design.