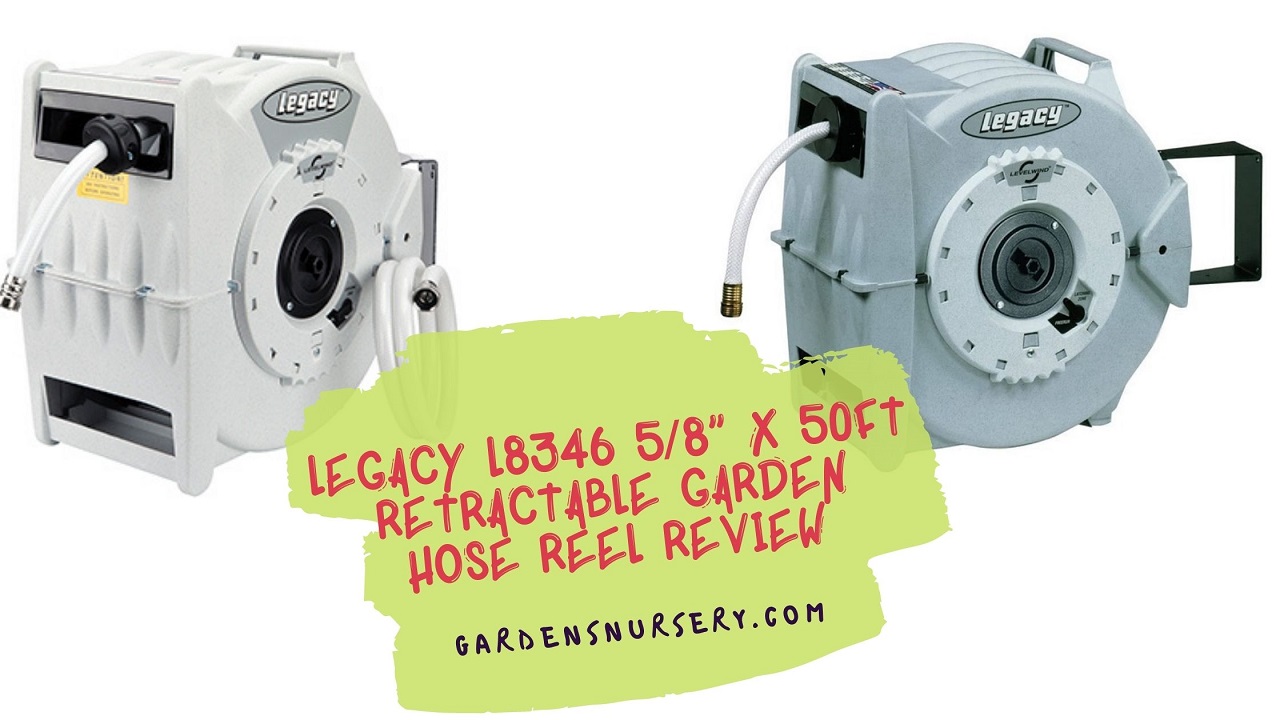 It's not a good sign when a reviewer struggles to know what to say about a product so read carefully. I will begin with the positive. There are definitely people who like the Legacy Retractable Garden Hose Reel because some of them have gone to the trouble to give it an average 3.8-star rating. But you have to know that star rating are a numbers game. It's based on the number of people who provide feedback, the rating they give the item, and those two figures are averaged; you end up with the star rating.
The Legacy L8346 is a retractable garden hose reel – which means that it automatically rewinds itself into the reel housing. One of the frustrating things about using a garden hose is getting it back onto the reel – untangled. If you don't, it's a real struggle to unwind the hose next time you need to use it.
The Legacy garden hose reel solves this problem with a unique system that coils the hose perfectly. That's one of the big pluses. One of the big downsides of the Legacy L8346 is that it can only handle 50ft of garden hose; 100 or even 150ft is much more practical for most garden uses. It doesn't have a kit to expand the hose length, neither does it come with wheels.
The mounting system allows the hose reel to be mounted on walls in several different configurations, or, it can be used as a free-standing unit. Before I buy a product I always try and read the manual, fortunately, a lot of companies now post their manuals online so it's an easy thing to do. I was discouraged by the instructions to replace the garden hose and carry out simple maintenance.
I was also put off by the recommendation that hose replacement and maintenance should be conducted by the manufacturers. Ordinarily, I don't pay too much attention to those recommendations (unless it's for a car) but having read the manual and looked over the pictures, I don't think they are jobs I want to tackle myself. I would suggest you make sure you are up for the task before purchasing. If you are very good at working with your hands, it will probably be a cinch.
Read More: Cast Aluminum Wall Mounted Garden Hose Reel Review
Legacy L8346 5/8" x 50ft Retractable Garden Hose Reel Features and Specifications
5/8-inch-by-50-foot retractable garden hose reel
The hose is automatically layered by a unique winding system
Constructed of UV-stabilized durable polypropylene for a long life
The mounting bracket can secure reel in up 7 positions
What Buyers Have Been Saying about Legacy L8346 5/8" x 50ft Retractable Garden Hose Reel?
A few buyers have really praised the Legacy Garden Hose Reel and say it's the best one they have found to meet their needs. At the same time, almost the same number of people say that their Legacy L8346 has been fraught with problems and breakages; several reports having to replace the unit. I would have expected fewer complaints about breakages and leaks for a hose reel at this price.
Legacy L8346 5/8 in. x 50 ft, PVC Levelwind Retractable Garden Hose Reel, (inches) x 50' (feet), White
Hose Length: 50 Feet
Power Source Type: Manual
LEVELWIND TECHNOLOGY - This unique winding system automatically layers the hose back and forth across the reel. This ensures that the hose is coiled smoothly, easily every time. Let the hose run free for immediate automatic rewinding or choose the latching mode which latches the hose every 3 feet
LOCK HOSE IN PLACE - The seven position locking bracket allows this reel to swivel freely on a mounting bracket up to 135 degrees or can be locked into place using the locking brace. Up to seven different locking angles can be utilized
Read More: Best Stainless Steel Garden Hose
Does The Legacy L8346 5/8" x 50ft Retractable Garden Hose Reel Have A Warranty?
The Legacy has a two-year limited warranty for the unit itself; it does not include the garden hose. The garden hose that comes with the unit is only warranted for 90 days.
Where Can I Buy?
You can buy the Legacy L8346: 5/8" x 50ft Retractable Garden Hose Reel from here. It's on sale with over $40 off at the moment so don't put off your purchase – you never know with Amazon when they will take an item off sale.
Can I Read More Reviews For Legacy L8346 5/8" x 50ft Retractable Garden Hose Reel?
I would definitely recommend that you read all the reviews for the Legacy before you splurge. Not all buyers have been happy with the product and you could save yourself some tears by reading other's experiences with this hose reel. When there are so many garden hose reels that cost less, yet, have really high testimony from buyers, it pays to check them all out.
Bestseller No. 1
Should I Get A Retractable Garden Hose?
Storing your garden hose can be problematic, especially if you have a long length of flexible hose to store. Retractable garden hose reels are one solution to this problem, but they are not for every home. Read on to see if a retractable hose is a right choice for you.
Retractable hose reels work best in situations where you frequently will roll out a very long length of hose and then have to reel it back up to store it. While there are a few high-tech exceptions, most retractable hose reels will automatically wind up the entire length of the hose. The hose is either put away or out. If you frequently need to wind up only part of your hose, such as when you water multiple garden patches, this option might not be very convenient for you.
Read More: FitLife Expandable Garden Hose Review
Retractable hoses are, with a few exceptions, usually narrower in diameter than traditional garden hoses. This allows for greater water pressure, but less volume of water comes out of the hose at a time. This works well for applications like hosing the deck or driveway or washing the car, but it may take longer to thoroughly water large gardens or fill a pool.
If you have a long length of hose to deal with and you plan to wind up the entire length after each use, a retractable hose reel can improve your life. If not, you might prefer a different type.