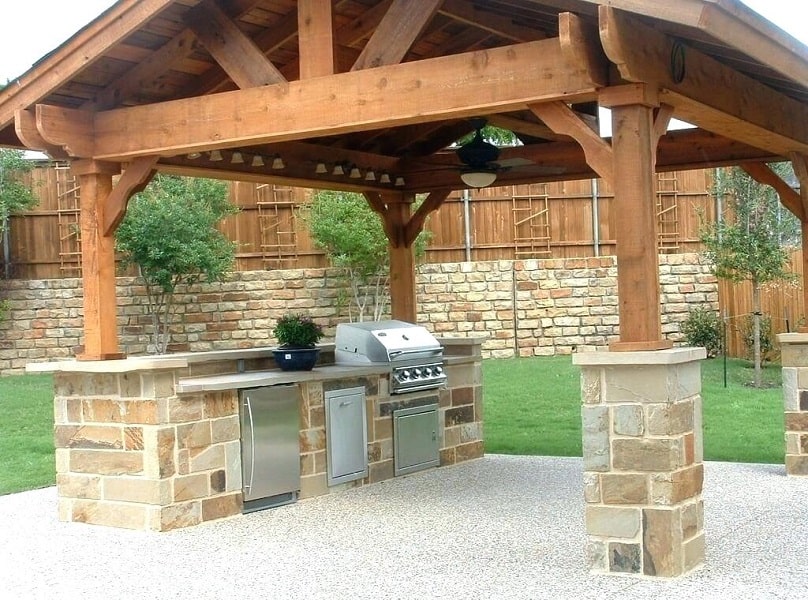 Outdoor kitchens help you entertain friends and family in picturesque settings. Read on to know about outdoor kitchen plans and designs. Diana always got what she desired, call it divine intervention, or just put luck, this lady was born with a golden spoon in her mouth! To explain what I mean, I will tell you about the time she went house hunting and she saw this beautiful farmhouse, which had everything she had dreamt of – a large living room, three bedrooms and bathrooms, and a large patio where she could have her own outdoor kitchen.
Going over the statics with Luke, her husband, they knew that they were short of money and the farmhouse was a distant dream that could not be realized. Not one to give up, Diana called her bank the next day to see how much she had in her savings, and lo and behold, it was enough to cover the entire cost. That's how luck or God favored this lady!
History of the Summer Kitchen
The summer kitchen or outdoor kitchen has been an indispensible part of Mediterranean living for about a thousand years now. It was the allure of outdoor living and the summer heat that convinced chefs and families to move out of the indoor kitchen and cook in wood-fired ovens and grills. The best part was that outdoor kitchens made it possible to entertain friends and family in a cool, breezy, and shady spot.
The outdoor kitchens in the farmhouses from Provence to Tuscany have pizza ovens, fireplaces, grills, sinks, and work surfaces that are set in the covered terraces, courtyards, and gardens. Today, this trend is becoming popular in other parts of the world too because of the availability of outdoor kitchen appliances, which include stainless grills, sinks, warming drawers, space heaters, and kitchen cabinets.
What are the things I should take care of before I begin my outdoor kitchen project?
Before you actually embark on the journey of achieving a fully functional outdoor kitchen, it is important to plan and make a budget. To do this you can look at different outdoor kitchen plans online or in books; these outdoor kitchen plans will help you with the transformation.
Side-by-side also consider how much space you currently have as this will determine how elaborate your kitchen will be. Since one of the essentials of an outdoor kitchen is a barbecue, choose one first and then see how much space that takes and then consider the other items you want, taking into account the space available.
While planning your outdoor kitchen, lighting is also of crucial importance. Here you could consider solar lighting, as these lighting elements store up energy during the day and turn on automatically at night. There is a wide range available, and you will certainly find one that goes with the other elements you had in mind.
With all this in mind and a few tips below, you will be well equipped to create your own comfortable, functional, and beautiful outdoor kitchen!
Tips to Plan an Outdoor Kitchen
First of all, decide if you want your outdoor kitchen to be an accessory of your deck or patio or the focal point. Also, take into consideration space and how much time you intend to use it.
Then try and have your indoor and outdoor kitchen in close proximity as this will increase the usefulness of both. You could have a shelf below a sliding window. This will make both kitchens functional.
While generating design plans, keep in mind the size of the group you will be entertaining in your outdoor kitchen.
Remember to design the kitchen to fit the climate you live in. If you have hot summers, ensure that there is shade whereas if the winter temperatures dip below freezing, it is of vital importance to remember that all outdoor plumbing will require winterizing.
When you select equipment, select one that goes with your cooking style. For instance, you could opt for a gas-powered grill that has side burners or a wood-fired oven for roasts, bread, and pizza. Also, ensure that the materials are selected wisely and that there is space for tool storage.
Check to see if the utilities such as gas, electricity, and plumbing are accessible. Of course, all these utilities can be installed or moved, but your choices can be governed by the easy availability of one of the other.
Once you have gone through all the above steps, determine how much of the kitchen you can build yourself and how much professional help you will require.
Outdoor Kitchen Designing Guide
Outdoor Kitchen Designing Plans
An outdoor kitchen can have many designs, all depending on what you require, the space available, and your budget. You could go for an outdoor kitchen design that has everything built into the wall or another which has everything free standing. You could also opt to have everything covered or open.
Your outdoor kitchen design could also have a grill with a side burner which would help you boil sauces and make veggies with ease.
If you are still unsure about the outdoor kitchen design or plan you want, you could meet manufacturers, who will be happy to offer their designs. You could also be more creative and contact retailers and home centers and come up with an entirely new outdoor kitchen plan.
Read More: How to Create Your Own Garden Bathroom
Outdoor Kitchen Designing
The very first phase of outdoor kitchen designs is to make the purposes of your outdoor kitchen clear and why exactly you want it? How many people you expect generally to attend your outdoor kitchen weekend parties? What all kitchen types of equipment like oven, barbeque, and refrigerator you will require in your outdoor kitchen? Things like that should be well prepared in advance before you begin with your outdoor kitchen designs and planning to come up with a practically possible design that serves your requirements perfectly.
Designing your kitchen also involves planning kitchen equipment, appliances, cooking area space, outdoor kitchen cabinets, outdoor kitchen islands, etc. So make sure that you have a list of all the necessary items before you design your outdoor kitchen. You can use outdoor kitchen design software to design your outdoor kitchen with these basic items and have a glimpse of your outdoor kitchen and how it will look like after completion.
Usually, when it comes to designing your outdoor kitchen, people are afraid of wasting their time and ending up with practically not possible designs. However, if you have proper resources and knowledge you can save money and time by designing your outdoor kitchen designs on your own. On the other side, if you do not want to design them on your own, you can always hire freelance outdoor kitchen designing companies and individuals who can do it for you, and then you can implement these designs with the help of outdoor kitchen construction companies.
Modern Outdoor Kitchen Designs
To start off with your outdoor kitchen projects, having good solid outdoor kitchen designs and plans is absolutely crucial because it doesn't really make sense to let your project go awry just because you do not have good outdoor kitchen plans that serve your purposes and requirements at the same time. There are many outdoor kitchen designers who have their complex designs with priority given to functional aspects and artistry, but there are so many pitfalls associated with the process that you need to watch out for while selecting the right types of outdoor kitchen designs.
As a homeowner or an outdoor kitchen designer, the first thing you should do is to write down all the required functional elements in the kitchen, designs, appearance, and color scheme and for that prior designing research is required in order to successfully execute those outdoor kitchen designs plans.
The very next point is to edit and remodel those ready-made or custom-made outdoor kitchen designs according to your requirements and make sure that these designs are practically possible, and not just in use for better functional usage only. As an outdoor kitchen design, you should also make sure that the amount of outdoor space is there should be adequate enough because people usually enjoy having their food with their family members and friends in an outdoor kitchen area with proper sitting arrangements.
Many of us have the tendency to stuff our kitchen with all sorts of kitchen accessories and types of equipment which we hardly use every day. So make sure you install and buy that outdoor kitchen equipment that you are going to use every day for sure, else it will mess up your functional area and blocks free workflow as well.
New Outdoor Kitchen Designs
You can also go for shed-based outdoor kitchen designs to have coverage for your outdoor kitchen which helps you to protect it from snowfall, rain, and direct sunlight. These new shed-based outdoor kitchens are in trend and many people seem to enjoy them as they have different benefits and advantages to offer you when compared to the conventional style of outdoor kitchen designs.
Modern outdoor kitchen designs can be obtained from online home improvement and kitchen interior design magazine and websites, as they weekly publish their latest designs and trends for outdoor kitchen, then you can mix-match these outdoor kitchen designs with your custom made designs and you can execute them practically according to your needs and requirements.
One of the most important and crucial aspects of outdoor kitchen designs is to always try to keep your designs and plans simple, functional, and practical because sometimes people tend to go for trendy and good-looking designs and compromise with the functional aspect of the outdoor kitchen. Your kitchen should be easy to use and workflow shouldn't be a problem, otherwise, you will not enjoy cooking and it ends up in disappointment. We will definitely advise you to hire a professional outdoor kitchen designer to design your kitchen and then get it constructed by a specialist kitchen construction company for better results.
Basic Outdoor Kitchen designs
Basic
This design features a sink, a grill, and a little space where you will be able to chop and store your supplies. This kind of outdoor kitchen design is fine for occasional light cooking but is not suitable for heavy-duty cooking.
U-shaped outdoor kitchen plan
This kind of island provides distinct zones for each kind of work. With this design, you have a place for preparing the food, cooking and eating it. This design is usually preferred because food can be served straight from the grill while maintaining a conversation.
"L" shape outdoor kitchen plan
This outdoor kitchen design has a configuration that allows for separate spaces for preparing the food and cooking it. The seating arrangements in this design are usually next to the grill island.
Outdoor kitchens can enhance the look and viability of your home There are various layouts of the outdoor kitchens like U shape, L-shape, G-shape, Galley-Shape, etc. Normally outdoor kitchen space includes a grill, a little storage space, and a sink. The main aim is to have fun with guests while cooking. It is considered that the outdoor kitchen will be used occasionally for light cooking.
There are three most common outdoor kitchen design styles used in outdoor kitchen plans which are – A "U" shaped outdoor kitchen, a basic outdoor kitchen, and an l shaped outdoor kitchen. A U-shaped outdoor kitchen is a multipurpose design that includes a grill in the middle and serving and preparation spaces on both sides. This way you can serve food directly from the grill with U shaped kitchen. U shape kitchens have three walls and you will find the sink in U shape plan is usually located in the middle wall section.
The Basic and Basic stand-alone counter of outdoor kitchen plan includes a grill, a sink, and a preparation space. Again the basic and simple outdoor kitchen design provides limited cooking and serving space. This is just enough for occasionally cooking. The most popular outdoor kitchen design is L-shaped outdoor kitchen plans. In an "L" shape outdoor kitchen, you get separate space for prep and cooking. In a Double, L-shaped outdoor kitchen you can have a center island.
Seating arrangements is normally done next to the grill in "L" shape outdoor kitchens. "L" shaped outdoor kitchen is comparatively larger, where you get more space for food preparation. The longer side of the L shape contains a refrigerator, a sink, a storage unit, and other accessories. A grill is usually located on the shorter side of the "L" shape kitchen. Generally, you can include two or three kitchen appliances on one wall.
The other usual arrangement in L shape kitchen is to have the cooktop at one end and the refrigerator at the other end and the sink is in the middle of the countertop. With "L" shape outdoor kitchen plans it is easier for more people to work in the cooking area.
The other option for large kitchens where two cooks can easily work is a double L-Shaped Kitchen. You can have big cabinets and also get a lot of counter space. In this design, you can have two separate working spaces so as to avoid interruption of human traffic in the workspace.
Durable materials are used for outdoor kitchens as it will be out in the open to the water, sunlight, and cold temperatures. Generally, granite, marble, brick, etc are used for the countertops and stainless steel for cabinets. However, you cannot neglect the quality of material as outdoor kitchens are expected to last for many years. It is better to choose the best quality countertops and cabinets and which are affordable too.
Read More: Creating the Ultimate Outdoor Dream Kitchen
Outdoor Kitchen Plans For DIY
DIY outdoor kitchen ideas are time-consuming and involve a lot of physical effort. However, it could be great fun if you plan it properly and using your own creativity. You can have an outdoor kitchen close to your home or an indoor kitchen with just having some DIY outdoor kitchen ideas.
Outdoor kitchen plans for DIY Incorporating an outdoor kitchen in an already existing decent patio becomes a relatively easy task. Before breaking ground, it is recommended that you look at a number of different ideas from websites and magazines that specialize in DIY activities, especially as they relate to building kitchens.
Make a list of designs you like most, then shortlist the one which are easier and best suited to your budget. Once you have a perfect plan about where exactly you want to have your outdoor kitchen, then make a list of accessories that are most needed. Such DIY outdoor kitchen plans requires few accessories like cabinets, sinks mixtures, grill, framing (made from backer board /concrete /wood).
Once you have a perfect plan of the area where you want to have your outdoor kitchen, the list of accessories you require, and other utility connections, then you can decide about which material to use. While selecting material for your DIY outdoor kitchen, you have to consider its cost as well as functionality. Try to use materials that require less maintenance. Most DIY types prefer stainless steel materials as it is durable, easy to clean and goes with almost with everything.
Your outdoor kitchen becomes expensive if you decide to go into much detail. You can plan low budget kitchen. You can save your time and money by finding out the exact place to dig for the closest connection point from where a utility line exists. Your primary goal of an outdoor kitchen is to enjoy the outdoors, so you have to design your DIY outdoor kitchen considering the climate and weather conditions. The other aspect you will need to care about is proper shade options, so as to make your guest happy. Try to place the grill in a shaded area and choose the place where the smoke can escape easily.
You will require the following material for your outdoor kitchen with concrete sub-structures.
• Outdoor cabinet doors
• Sink with tap and faucet
• Concrete block and concrete backer board
• Gas pipe, shutoff valve, and connections
• Electrical supplies: cable or conduit with wire, boxes, GFCI receptacles
• Plumbing supplies: supply lines, drain lines, stop valves
• Mortar mix and Fortified thin-set mortar
• Tiles and waterproof tile backing
• Nails and screws for building framing and attaching boards to the house
• Fortified grout and Grout sealer
• Stucco mix
• Paint
While making a sitting arrangement for guests, if you choose a pair of rocking chairs or a decorative outdoor bench, then it would be in your budget as well as it will prove an innovative idea for your kitchen. You can decorate your DIY outdoor kitchen with hanging plants as well as decorative items. Having an outdoor kitchen with your own ideas makes a great feeling for you as well as your family.