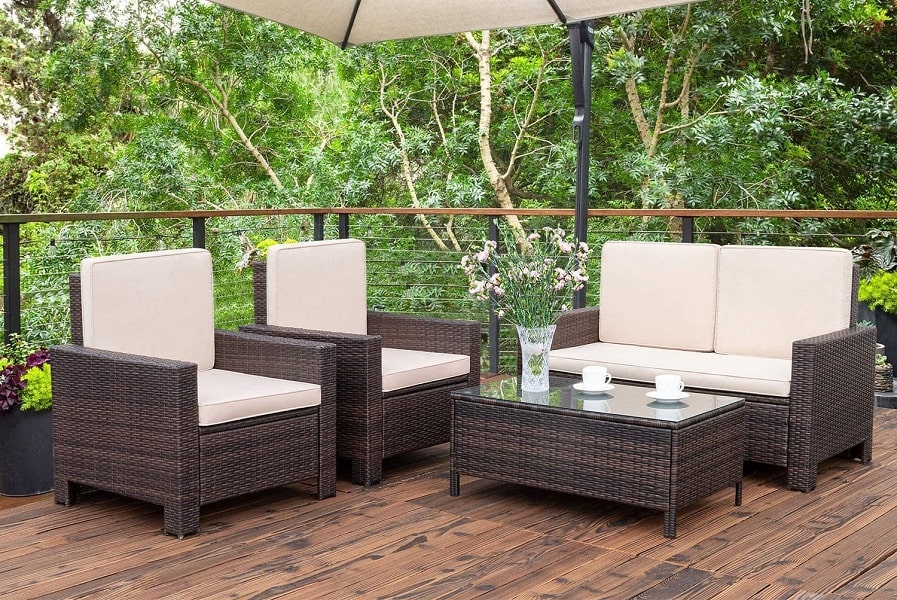 Outdoor Lawn furniture can make or break your social standing for it is outdoor lawn furniture, which gives out the first impression about your tastes and preferences. Therefore, periodic maintenance of lawn furniture makes sense.
Poorly maintained furniture is the last thing you want in the home. A
stained furniture
piece is an eyesore not only for your guests but also for the family members. Indoor furniture is quite easy to maintain in comparison with outdoor lawn furniture.
Your lawn furniture is exposed to all kinds of weather vagaries, which make it look worn out. Good lawn furniture specially made with the all-weather finish can last a considerable period of time, but soon or later it will also require
garden maintenance
.
The periodicity of maintenance will depend upon the kind of weather your lawn furniture is exposed to. Hot and humid weather demands maintenance every month, while the cooler climate means a less frequent renovation schedule. It also depends on the quality of outdoor lawn furniture. For instance, good-quality furniture with weatherproof coating can last for a substantial period before
demanding a renovation
.
This is because made furniture articles are crafted with special skills that made them strong, sturdy, and elegant at the same time. For authentic lawn furniture, always rely on a trusted wholesale furniture dealer.
Ideally, renovating the outdoor lawn furniture should not be an expensive venture, both financially as well as time-wise. Redecorating and renovating the lawn furniture should be a weekend job that can be easily managed without any help from professional agencies. All you require is the proper tools and materials for cleaning, de-glossing, spraying, and glossing jobs.
So, rags, sandpaper, brush, sprayer, and other scrap materials are an absolute must for the job. Besides those, liquid de-glosser, a metal primer, and high-gloss enamel spray for treating the weather-beaten lawn furniture are also helpful.
After settling down in a comfortable area, use the wire brush and sandpaper to remove loose and protruding paint. Remove dirt or grease with a wet cloth. Make sure that the furniture looks ready to get a fresh finishing. Next in line is the application of liquid de-glosser.
The de-glosser will make the surface dull and cleans off any unwanted material or stain stuck on the surface. After giving it some time to dry, spray metal primer to prepare your furniture to fight rust. Lastly, give a couple of coats of high-gloss enamel spray to give it just the desired finish.
While this renovation job would give your outdoor lawn furniture a new look, if you are looking for refurbishing the furniture, you must choose a professional for the job. Refurbishing may involve dismantling, making over, and assembling the existing furniture pieces to give them an entirely new shape. This is the job of professionals and you should avoid toying with such a complicated task.
The importance of renovating lawn furniture can never be underestimated. Lawn furniture is a reflection of the indoor furniture and if the first impression of your home furniture is not good, then the effort of maintaining a well-furnished home seems wasted.
Therefore, firstly, buy exquisite outdoor lawn furniture from reputed furniture dealers and then, make sure that this furniture receives adequate attention in the form of regular cleaning and dusting and periodic maintenance.