Top Useful Ideas To Make Your Outdoor Space Perfect And Enjoyable
For a lot of homeowners, the outdoor living space is the most important part of their home since they spend so much time there. It's not just where you have family dinners, entertain guests, and hang out with your kids. Here are some practical
For some people, "summer afternoon" is the two most beautiful words in the English language. If you can relate to this, you must be thrilled that summertime is approaching. What could possibly be better than sprucing up your outdoor space to enjoy some quality time with your friends and family? Your yard is an important part of your home as an entertainment area and a place to enjoy family meals.
So you should pay attention to keeping it in good shape, especially during this time of the year, when you get to enjoy parties and barbecues. Additionally, creating an ideal outdoor space will offer you a relaxing spot at home where you can connect with nature. Keep reading for some inspiring ideas to make your outdoor space more welcoming.
Provide Plenty of Seating Options
While an outdoor space is an excellent spot for having family meals, it is also an incredible place for hosting parties and get-togethers. Having plenty of seating will offer everyone enough space to sit and eat comfortably. A great tip is to invest in a large table and chairs along with additional seating for relaxing or lying down.
If you want to achieve a summery vibe, wicker and bamboo furniture will provide you with just the look you're searching for. They're chic and have a modern touch that will elevate the look of your entire space. On the other hand, if you love a vintage aesthetic, you can opt for mix-and-match chairs. Mixing benches and chairs is a great way to save money and display beautiful pieces together.
Add a Heat Source
Why limit the time you can spend in your outdoor space to summertime when you can enjoy it all year round? Adding a source of heat next to the seating area will keep you and your guests warm and cozy even in cold weather. It will be a great addition to your yard, where you can enjoy hot beverages or roast marshmallows with your friends and family on cooler evenings.
There are plenty of options you can choose from as a heating source. A fire pit, fireplace, or heater are excellent choices that provide warmth and convenience to you and your visitors. Moreover, smokeless fire pits are a terrific option if you or a guest is sensitive to smoke. Adding a focal point to your outdoor space and enjoying a smokeless fire pit is another awesome way to create a mesmerizing spot in your home.
There is a variety of smokeless fire pits on the market, and they can differ greatly in quality and features, so do your research and choose carefully.
Improve the Lighting
Although a backyard or garden is an excellent place to feel the warmth of the sunlight and witness the beauty of the sky, you will need to brighten up the area when it gets darker. Add luminous lanterns to your outdoor space for a playful vibe or jazz up the area with string lights along the fence.
Since it tends to get dark earlier in fall and winter, adjust timers to lighten the space when dusk arrives. Furthermore, invest in high-quality light fixtures to add a modern touch to your space. Additionally, one of the best ways to create a warm and welcoming atmosphere in your outdoor area is by using fairy lights. Light up your patio area using multiple strands for a dramatic feel throughout the entire garden.
Build an Outdoor Kitchen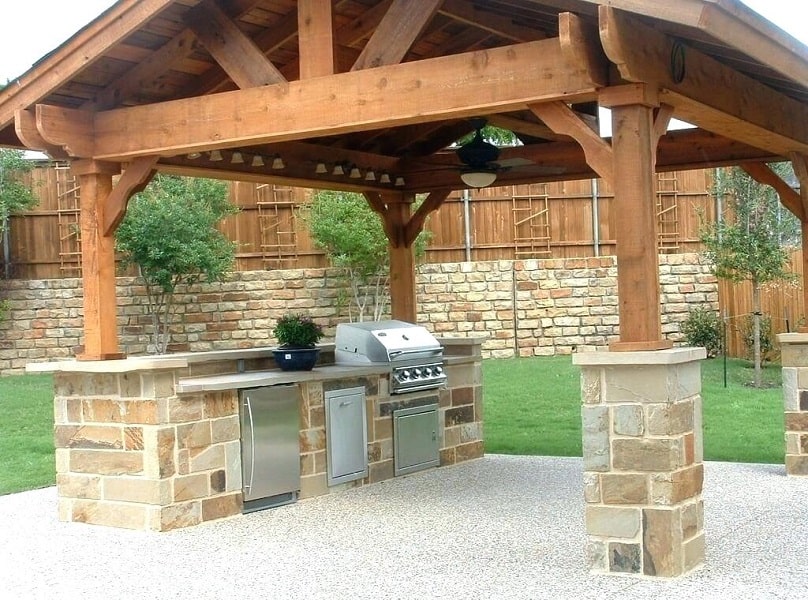 A backyard without a kitchen or a grill doesn't feel complete. Build an outdoor kitchen where you can grill meals and have amazing barbecues along with friends, family, and neighbors.
Regardless of the season, you can enjoy your grilled meals prepared in your own backyard. Moreover, an outdoor kitchen is a perfect space for entertainment as your guests can gather around the grill and chat while you cook dinner. There will be more space for everyone to hang out than there would be inside and you'll get to enjoy the fresh air for a few hours.
When it comes to renovating your outdoor space, you should start with what you already have. No need to buy tons of new equipment, furniture, or decorations that might just end up cluttering up the area. Use some extra chairs to create a dining spot and move your stereo to the yard, where you can put on your favorite music while you relax.
Keep the tips above in mind to inspire you and you'll be able to make your outdoor space enjoyable for yourself and all your guests.