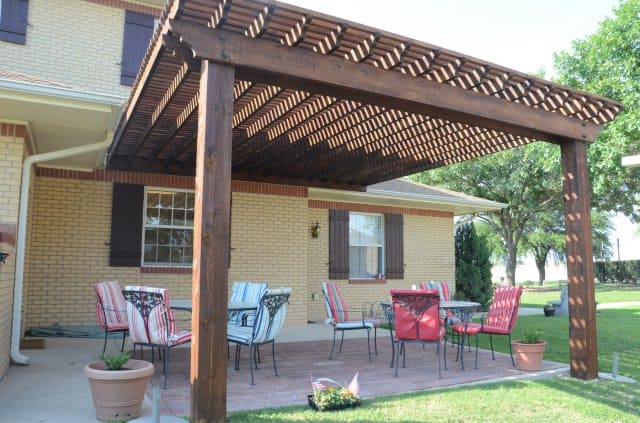 Do It Yourself Pergola
A pergola is a beautiful addition to any outdoor area. The fact of the matter is that the pergola has the ability to transform any outdoor space in an instant. If you are looking to extend your indoor living space to the outdoor and do it with style, you should consider adding a pergola to the space.
If you have been shopping around for some time and haven't found just what you are looking for, why not consider a do-it-yourself pergola? More and more people are doing this so they can get exactly what they want from a pergola. You don't have to settle for anything less than what you are envisioning.
Not sure how you would go about building a do-it-yourself pergola? The first thing you need is plans. Many people can envision what they want and create their own plans, but if you are not able to do this, don't worry about it too much. You can sit at your computer and find your own plans. Today there are do-it-yourself plans for just about everything that you could ever want, including pergolas. Search around the internet for plans that are specific to what you want.
You can also head to your home improvement store and buy plans from them for your own do-it-yourself pergola project. The plans are usually relatively affordable and after you buy all of the supplies needed chances are you'll still be saving money when you compare the prices of the pre-built pergolas.
If you can't find a plan that is exactly what you want, your home improvement store may still be able to help. Many of these stores will actually work with you to create custom plans so you can get exactly what you want, but ensure that it is built in a structurally safe and sound manner. See if your home improvement store will do this for you!
A do-it-yourself pergola project is not something that you want to rush through. Depending on the scope of the project you will want to budget two full days or even four full days of work for the project.
If you hurry through the process you may be giving up quality or stability, which is not advisable when it is something that you will be sitting beneath.  Take your time, choose the right materials, and do a great job so you come away with something that you can really be proud of.
Read More: A Perfect Go-Anywhere Outdoor Garden Bench
The Beauty of a Pergola Bench
If you like the look of a pergola but you don't necessarily have room for it, you don't have to give up on the dream altogether. In fact, if you have a garden, even a small one, you can still bring the beauty of a pergola into your yard with the use of a pergola bench. A pergola bench is a great addition to any yard or garden because it is beautiful and stately and simply makes a statement.
A pergola bench is a bench that is attached to a smaller pergola. This is a great addition to the middle of a garden because it gives you a nice place to sit and enjoy the beautiful landscaping. Even if you don't have a garden, the bench is a nice place to sit and enjoy the outdoors while you sip your favorite cup of tea or your favorite glass of wine. You can even sit and enjoy the outdoors with a friend or loved one.
You can buy a pergola bench at many home and garden stores in the spring and summer months. Some of them come preassembled and others you will need to build yourself. You can choose wood or iron pergola benches, the choice is yours. Both are very beautiful and will provide you with a nice place to sit and enjoy the outdoors.
You might even want to try to build your own pergola bench. Many home improvement stores sell plans so you can build your own pergola bench so you can get exactly what you wanted in your yard. If you cannot find something locally that you like, you will also find that many websites have free plans or you can buy plans online that will provide you with exactly what you are looking for. This is a great way to make a fun project out of your desire to create a beautiful outdoor space.
After you have your pergola bench you might want to allow vines to grow on it to create a beautiful garden experience. Wisteria and roses are both great options, although wisteria is a very hearty vine and may cause problems with the construction of the bench so you should be extra careful to ensure that the vines are not making the bench or the pergola unstable. The vines really do add something beautiful to the bench though, so consider this seriously before deciding to just pass on it!  It'll make the pergola take on a whole new and enchanted look!