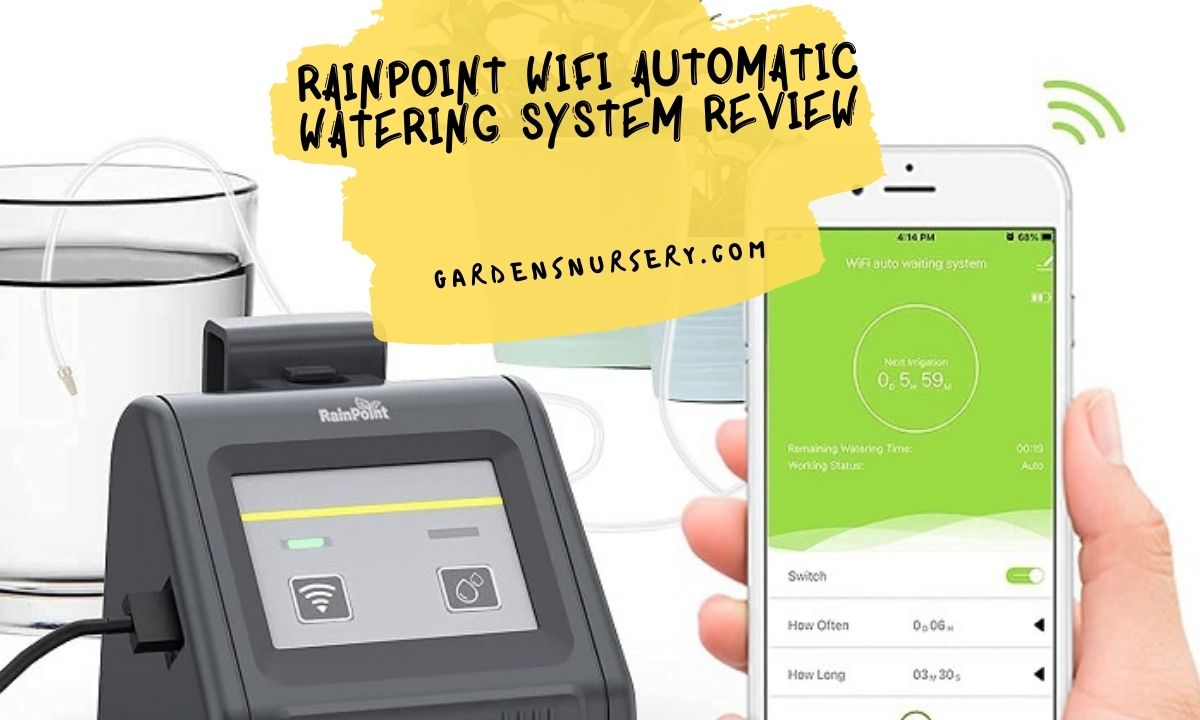 Rainpoint is an innovative WiFi automatic watering system that takes the guesswork out of maintaining your garden. Rainpoint has a sleek design and easy installation. Set it up in minutes with your smartphone, and you'll never worry about your plants again.
RAINPOINT WiFi Automatic Watering System – What it is and How it Works?
RAINPOINT is an indoor intelligent APP automatic irrigation system that can be used to water plants and set schedules. This device connects to the RAINPOINT app by WiFi and it's able to send notifications when plants need watering or when you need to change the settings of your plants.
It uses a pre-installed timer for controlling how often your indoor plants will get watered, which allows you to have a more hands-off approach with your indoor gardening tasks. The RAINPOINT app also has a notification reminder for when you need to change the device's battery, which is included in the package.
Rainpoint has a multi-functional APP that can be used to control the watering of plants remotely and at any time using a smartphone or tablet.
Features of RainPoint Wi-fi Irrigation System
The RainPoint Wi-fi irrigation system is designed to make your lawn more beautiful and healthy. The system includes a controller that is connected to the internet.
The following are some of the features of this product:
It can be used for all types of indoor houseplants, including vegetables, flowers.
RainPoint is easy to set up and maintain. With its touchscreen interface, you can easily control the settings and even create custom schedules for each of your house's environments.
RainPoint has an app that allows you to remotely control your watering system from any location.
This system saves time by watering your houseplants automatically so you don't have to worry about it!
Pros of RAINPOINT WiFi Automatic Watering System
Rainpoint is a WiFi-enabled irrigation system. With an app for both iPhone and Android, you can control when your plants need water and how much they receive.
You can also set a schedule, so that it knows when to water without any help from you at all! You can also control it remotely through this app from anywhere in the world.
It's flexible enough to let you have different watering cycles for each plant in your garden. Rainpoint is a smart system that never forgets or misplaces anything!
We know that most people worry about forgetting things when they're busy with work or just running errands around town – but not anymore!
It will also keep you informed about your plants' status through text or email notifications. You will know when to check up on them or when to refill the water tank (due to high humidity).
RAINPOINT WiFi Automatic Watering System, Indoor Intelligent APP Automatic Watering System, Indoor Plant Watering and Irrigation System
Before first connection, make sure USB cable is connectd sucessfully and you are using a 2.4GHz router or a dual-band router that is configured to support a 2.4GHz frequency band.
【Remote Control App】With RainPoint APP, easier to program and manage your watering schedule. After the initial connection, you can remotely control it anytime, anywhere(support 2.4G/5G wifi or 4G network), making it a great way to take care of your plants while you are traveling.
【Automatic & Manual Watering】With auto mode, 2 watering durations can be from 6s to 59s or from 1mins to 30mins, 2 watering frequencies can be from 1hr to 24hrs or from 1 day to 7 days. With manual mode(0s-30mins), you can water your plants at any time without interrupt your schedule.
【Effective Water-Saving Design】Combine the pump and water timer in an automatic watering system to pump water from the water bucket or water tank, saving 70% water compared to traditional irrigation spray. 1-gallon water can last for at least 3 weeks for 10 pot houseplants.
【What You Get】The kit offers all accessories you need --1/4" Tubing (32.8Ft), Micro Drip Emitters x10,T Barb Fittingx10, Cross Barb Fitting x3, Straight Barb Fittingx3, USBx1, Tubing End Capsx3, Filterx1, Manual*1.
Cons of RAINPOINT WiFi Automatic Watering System
RAINPOINT WiFi Automatic Watering System is a smart system that can be easily installed by anybody. It also helps conserve water by cutting the water flow off when the plant is not in need of any more water. However, some customers have found it to be unreliable, requiring them to manually restart it on their own.
Cons of RAINPOINT WiFi Automatic Watering System:
The device can sometimes stop running on its own or require manual restarting.
RAINPOINT WiFi Automatic Watering System is Perfect for Watering Houseplants
The RAINPOINT WiFi Automatic Watering System enables you to do away with remembering to water your plants. The system is compatible with a variety of plant types and can be installed on a wall indoors or outdoors.
This product is perfect for those who live in regions where there is a lack of rainfall, which means that the plants will not need watering as often. In addition, it can be controlled by an app, which means that you don't have to worry about not being able to water the plants because you are on vacation or work from home.
The RAINPOINT WiFi Automatic Watering System will make your life easier by enabling you to forget about having to water your plants!