Best 6 Solar Powered Garden Decor That Will Transform Your Outdoor Space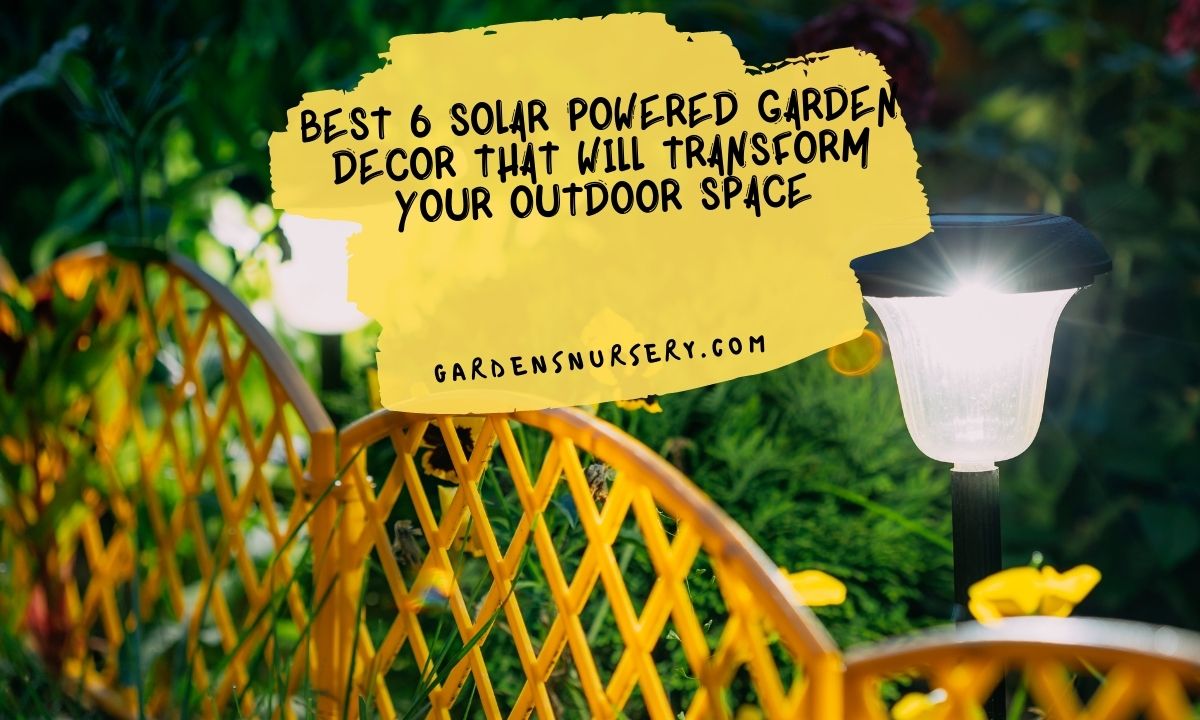 Decorating your dream garden or patio can be one of the most exhilarating feelings, especially when you are transforming it to fit your dreams. Outdoor spaces are often overlooked, but with the appropriate decor, they can be your favorite place.
All the hard work that goes into planting, landscaping, and planning can be exasperating, but all the frustration goes away when you see your beautiful creation complete.
When you step into your garden in the nighttime and see twinkling lights it is like stepping into a world of stars in your backyard. Solar-powered items are a great choice to have in any space, as they do away with the need for batteries or expensive electrical wiring where there currently is none.
If you are looking for decor items, here are some great suggestions for solar-powered items that you can add to your outdoor space.
1. Lighting
When thinking about garden and patio decor, one of the first things that come to mind is lighting, however, the variety of lighting available for your outdoor space is incredibly diverse. There are myriad types of lighting that you can use outside, from torches to string lights, here are some of the most popular solar-powered lighting options available to enhance your outdoor dreamland.
A. Twinkle Lights for Flower Pots
Solar-powered twinkle lights can come in a variety of shapes and sizes. From lights that look like bees, to lights that look like ferries, you can enhance and draw attention to your favorite plants by adding these decorations into their pots.
Twinkle lights on strings can be added above your seating area to replicate a starry night, or added near ponds and shimmer off the water. Twinkle light accents are a great way to draw attention to the centrepiece of your garden or patio area, and you can never have enough of these beautiful accents.
B. Light Nets
Light nets can be hung above seating areas or over bushes, they can be used to accent your hedges or gazebo. Light nets are very convenient, as they can light up a larger area with little frustration on how to place string lights. Light nets are beautiful to place over shrubbery or hang on your fencing to look like a blanket of beautiful lights.
No matter what decor you have in your garden, you are sure to find the perfect place to utilize solar-powered light nets.
C. Pathway Lights
Pathway lights are a beautiful addition to your outdoor area, and they serve more than one purpose. Rather than being solely for decoration, these lights help illuminate where to walk so you can enjoy your patio at night without tripping or wandering onto planter areas. Pathway lights enhance safety, light the way to your garden or patio centerpieces beautifully, and are a must for any outdoor area.
With multiple styles, shapes, and sizes available, solar-powered pathway lights will help you accent your walkways most beautifully and decoratively possible.
D. Large Patio and Motion Activated Exterior Lights
Having exterior lighting on your home allows you to enjoy your outdoor areas with ease and safety during the night. While these can be decorative features, they are also safety features.
Motion-activated lights will alert you to any movement on the exterior of your home, and easily light your way if you arrive home late with no lights on.
Solar-powered motion-activated patio and exterior lights can make coming home at night much safer, allowing you to do activities outside in a well-lit environment. These lights are easy to install and come in many shapes and colors, so adding them to your current exterior decor is easy! Don't leave yourself out in the dark, adding exterior motion lights will make your outdoor area safe and well-lit for you and your family.
2. Fountains
The sound of running water trickling peacefully in your outdoor oasis is a beautiful thing, and many fountains are available to fit any decorative scheme. With options ranging from rock waterfalls to solar bird bath fountains, the choices are endless when it comes to this addition to your outdoor space.
If you are looking to complete a relaxing outdoor area, then a fountain is an addition that will bring peace and tranquillity to any outdoor space. And not only do they provide relaxing sound, but they can also draw wildlife to your yard, immersing you in nature and allowing you to enjoy it to a greater extent.
An outdoor solar fountain is a must-have item when transforming your outdoor space.
3. Solar Powered Outdoor Speaker
While you may not have considered an outdoor speaker, they are a great addition for multiple reasons. There are outdoor speakers housed in decorative rocks and differing shapes, that will enhance your outdoor space, and allow you to effortlessly listen to your favorite music outside.
Maybe you want to stream your podcast while working in the garden or have your music playing while you entertain guests. Standard portable speakers can be large, gaudy, and require frequent charging.
Outdoor solar-powered speakers effortlessly fit into the design of your space, add the decor in different forms of your liking, and allow you to have quick access to your speakers without any hassle.
4. Security Cameras
Outdoor cameras are becoming the norm for many households, however, they are often very obvious and part of a hardwired security system. Trail cameras designed as items from nature that are solar-powered can be an easy way to add cameras to your backyard and garden decor.
Maybe you want to see what animals are visiting your garden at nighttime, these portable solar-powered cameras can give you the view you want where and when you want it.
With different shapes and colors available, solar-powered cameras can flawlessly fit in your decor, giving you added security and comfort in your backyard paradise.
Conclusion
Adding solar-powered decor to your outdoor space can give you an ethereal and tranquil look, allowing you to enjoy relaxing evenings with friends and family. When planning the transformation of your outdoor space, adding these solar-powered decor pieces will be the finishing touch you are looking for to breathe life into your night.