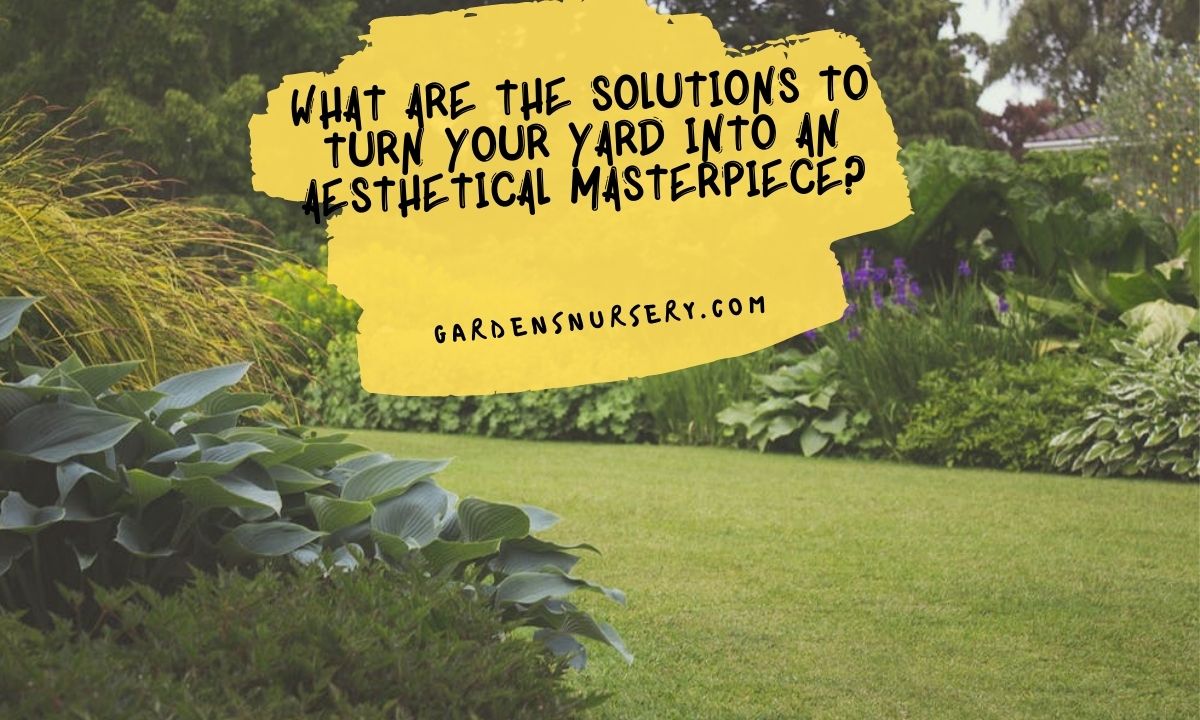 Turning your backyard into a landscaped garden can be both an overwhelming and exciting experience. After all, you get to create something that represents who you are, so here are some tips on how you can turn your garden into an aesthetical masterpiece.
1. Put Synthetic Grass
If you are planning to put up something green in your yard, you can also consider getting synthetic grass.  These days, modern technology has allowed the construction of artificial turf that looks so realistic and feels so good under feet, people often assume it is real.
If you happen to spill anything on them, no worries because they are completely waterproof!  They are extremely low maintenance as well, which is perfect for those who do not have time to water their lawns every week. You can use Magnolia Turf Co. and see what kind of grass works for you. When installed correctly, these fake grasses look just like the real thing and make it easier for homeowners like you to turn their yards into aesthetical masterpieces.
2. Add a Water Feature
As you may already know, water features add more than just an aesthetic appeal to any yard. These special pieces of art are not only visually pleasing, but they also have numerous practical benefits, especially for homeowners who live in areas that experience long periods of drought.
They can be used to regulate the amount of water evaporation on your lawns while effectively cooling down the air surrounding them. Today, there are so many styles and designs of these interactive pieces of art that it has become harder than ever before to find out which one is right for you. If you need help choosing a suitable pond or fountain design, you can search online for some ideas.
3. Do Some Gardening
If you are not too keen on making a huge splash with your landscaping designs, then gardening might be the perfect solution for you. It is a great way to bring out the beauty of your yard without overdoing it and spending more than what you can afford.
You can start by planting some colorful flowers or quirky shrubs to create an interesting focal point in your backyard. After that, you can try to add some landscaping elements such as patios and walkways that lead into lush greenery and gorgeous flower beds. This can be a great way to attract birds and butterflies without spending too much money.
4. Make a DIY Pond
If you are not the type of person who wants to spend thousands of dollars on a fancy water feature, then this may be something that is right up your alley. DIY ponds are great for homeowners because they do not have to break the bank in order to purchase them. Unlike other types of ponds and fountains, DIY water features use simple methods such as pump systems or gravity-fed designs, which make it perfect for those with limited budgets.
They also require very little maintenance compared to expensive models, which will save you huge sums of money over time. Creating one does take some effort, but these things should never stop someone like you from creating an aesthetical masterpiece out of their backyard.
5. Put a Fire Pit
One thing that is often overlooked by homeowners when landscaping their yards is adding a fire pit. These compact and portable pieces of art are extremely popular these days because they add a rustic look to any garden design while simultaneously creating an intimate setting for family gatherings and other special events.
If you want to find the perfect spot to put one, a great way is by converting a corner of your backyard into a dining or relaxation area, so people can gather around it without being under the sun all day long. They don't have to be complicated, either, since there are many designs that you can try out without having too much trouble installing them at home.
6. Make Use of Stones
If you are not really into planting flowers or adding other types of landscaping materials to your yards, another great way to bring something aesthetic to life is by using rocks instead. These natural pieces of art have been used by landscapers for centuries because they are a lot cheaper compared to other materials, and they look gorgeous in any yard. Some of the most popular designs used today include cobblestone driveways, brick walls, or stone fences, which can make your property much more interesting, especially if you live in an area where two different kinds of rocks exist.
7. Build a Treehouse for the Kids
If you have young children at home, it is only natural that you would want to find something fun for them to do out in the yard. If you think your kids are growing up too quickly, this is something that can delay it a bit more by giving them an opportunity to play around without having to walk too far away from home. While putting up a treehouse might seem like it is beyond your abilities, there are many kits available online which allow virtually anyone to build one without any previous experience when it comes to carpentry or construction.
Why Should a Yard Be a Nice Place to Be In?
Yards are where people go to relax after a long day at work, play with their kids, or just enjoy the greenery of nature. Therefore, they should be aesthetically pleasing in order for them to attract more visitors and create a calming atmosphere around your property. If you are tired of looking at the same old thing every day, you may need a yard renovation.
What are Landscaping Materials?
When it comes to making your yard look astounding, there is one thing that you should never forget about- landscaping materials. Without these elements in place, there would be nothing to create trails or natural-looking paths, so people can walk around without ruining too much of the vegetation. Some types of landscaping materials include rocks, gravels, and stones which can be used to add extra depth to any garden design.
They also work great for creating patios and fire pits, which many homeowners seem to appreciate when having barbecues with their friends and family members. There are also different types of bricks available for people who want something intricate than just stone sculptures around their property.
If you want your yard to become an oasis that allows you to recharge during the weekends or whenever you feel like doing so, then follow these great ways that can help transform it into something beautiful without having too much trouble maintaining it afterwards.
Read More: How Can Good Landscaping Increase The Value Of Your Home