Irrigation Lawn Care with Sprinklers System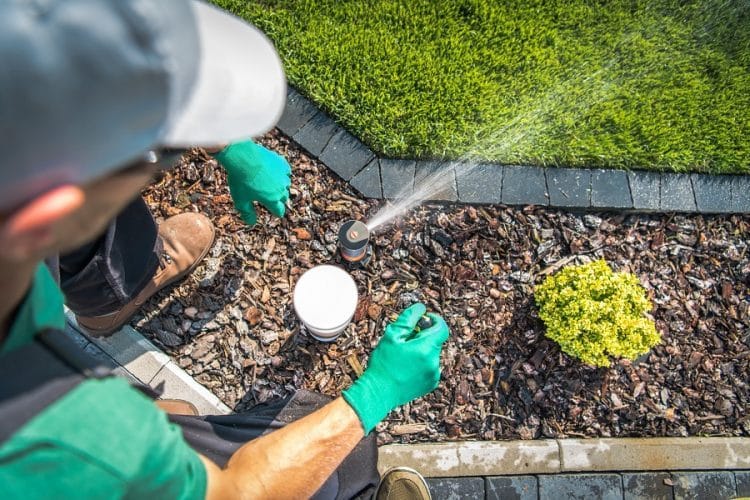 In the old days the only kind of lawn sprinkler that one saw the oscillating sprinkler. That's the one that is attached to the garden hose that sends fan-shaped arcs of water back and forth, back and forth.
Since they have to be physically moved from area to area, homeowners that use them are at times humorously referred to as hose-draggers. In many areas, lawn care with sprinklers is the only way to keep a lawn alive during those summer droughts
Different grass species can affect how much watering needs to be done. For example, St. Augustine and Bermuda grass have a healthy appetite for the wet stuff, but species such as Buffalo grass are slow growing but can go for sustained periods without watering or rain and remain healthy.
Types of Lawn Sprinklers
There are two broad categories of lawn sprinklers, the portable ones that are favored by the hose-draggers, and then the hard-piped sprinkler systems that are permanently installed. How long should a sprinkler sprinkle for adequate coverage?
Try this out. Set an empty tuna fish can on the lawn where water delivery is average. Start a stopwatch. Make note of the time that has passed when the can is full of water. This is the amount of time to run your sprinkler.
Portable Lawn Sprinklers
First, there is the oscillating sprinkler, as mentioned earlier. This one is ideal for rectangular shaped lawn areas since that is the kind of water distribution pattern it produces. It delivers the highest coverage with respect to the time of all the portable types. It has been rated at watering up to four thousand square feet.
Next, we have the whirling sprinkler, sometimes known as the rotary model. It has three short arms which are slightly bent. The water pressure causes the arms to spin around their central axis and sling water in a circular pattern. This makes it an excellent choice for lawns with rounded or circular edges. This sprinkler can be adjusted from a heavy delivery to a light mist.
The impulse type of sprinkler sends water out in pulses at intervals while the sprinkler head rotates a predetermined number of degrees. It is recognized by the "pfft, pfft" noise that it makes. It is good for lawns that want a slow, steady delivery, such as a recently sodded lot. The impulse sprinkler can be a spike model or one that simply sits on the lawn. A spike is preferable with high water pressure.
Finally, the walking sprinkler is great for large lawns because it reduces the hose dragging. This model is self-propelled and resembles nothing so much as a little model tractor. It is equipped with arms similar to the ones on the rotary model except it typically has only two rather than three.
Melnor 65078-AMZ XT Turbo Oscillating Sprinkler with 3-Way Adjustment and QuickConnect Product Adapter Set, Amazon Bundle
20 Precision nozzles provide maximum coverage of large lawns or gardens up to 4, 500 Sq. Ft.
Twin touch controls adjust the width and range of the watering pattern to cover the whole yard or a narrow flower bed.
Infinity turbo drive provides a smooth operation for even watering and extended life.
Quickly connect and disconnect the sprinkler with an included Quick Connect Product Adapter (Requires Quick Connect Product End Connector sold separately)
Backed by the Melnor Limited Lifetime . We stand behind our products.
Hard-Piped Lawn Sprinkler Systems
This is the best choice for ease of use. The system consists of a cluster of buried PVC pipe, a backflow preventer, sprinkler heads, and a timer. The PVC pipe delivers the water, of course.
The backflow preventer is a device that keeps water that has entered the system from draining back into the water supply. The timer allows the homeowner to put the lawn sprinkler system on a remote control, perfect for vacations or business trips.
The sprinkler heads themselves come in a variety of types. Bubbler heads are great for flower gardens or very small yards. Pop-up heads are the best for out on the lawn. They only rise up from the ground underwater pressure so they can't be mowed off. Finally, impact heads operate just like the ones described in the above section.
Sale
Orbit B-hyve 12-Zone Smart Indoor/Outdoor Sprinkler Controller
ULTIMATE WI-FI AND TIMER CONTROL: The B-hyve app is fully functional for android, iOS or web devices and gives you control wherever you need it program your timer on the app, at the timer, or let the weather-based software create a program for you
SMART WATERING: Weather sense technology provides watering based on site conditions such as slope, soil type, sun/shade, historical et and live weather feeds, it automatically adjusts your controller to deliver the right amount of water to your plants
EASY TO INSTALL AND USE: Utilize the swing panel for easy access to the angled wiring terminals, which makes wiring simple and convenient and the plug-and-go line cord that can also be cut for hardwired applications
CERTIFIED TO SAVE WATER AND MONEY: B-hyve is EPA WaterSense approved and certified, ensuring it will save you water and energy. This can also make your B-hyve timer eligible for local rebates, which can save up to 100% of the cost on your timer
DURABILITY AND SECURITY: The Orbit B-hyve Wi-Fi sprinkler timer comes in a weather-resistant case, allowing you to mount your timer indoors or outdoors without risk of weather damage and a locking cabinet that keeps your timer safe from harm
Lawn Sprinkler System Repairs
Whilst keeping a lawn that is largely water with a yard sprinkler system makes feeling, it's going to inevitably lead to the need for doing some lawn sprinkler system repairs at some point as time goes by. The components likely to need fixing in a lawn sprinkler system shall include the pipes, sprinkler heads, filters, and quite possibly a pump.
The fact that an urgent repair to it is required can frequently be identified by especially wet or dry patches on the yard, due to a leak or obstruction someplace in the lawn sprinkler system whilst routine upkeep must be carried out on the lawn sprinkler system.

Water Pipe Repairs
A puncture in a water pipe/tube is the absolute most cause that is common of puddles suddenly appearing for a lawn. After identifying the pipe that's responsible for the leak – turn the sprinkler system off! After this, you need to excavate the earth from around and beneath the breakage.
Most lawn sprinklers use a Polyethene or PVC based system that is piping fixing the broken pipe is quite straightforward. Throughout this task try and not let any earth/dirt get to the pipes/tubing. Cutaway a portion of the piping either part of the part that is damaged you then use compression joints to 'splice' in a replacement section.
You may also apply an appropriate 'quick-drying' plastics glue towards the joints, to greatly help strengthen the repair. After about 10 minutes switch on the sprinkler system to check that the fixed section isn't leaking from the bones you've just created, you then can re-bury the piping.
Lawn Sprinkler Head Repairs
The most common reason behind the sudden look of dry patches on your lawn will be a damaged or sprinkler head that is blocked. With the lawn sprinkler system turned off dig around and underneath the sprinkler head to easily get access to it. (Caution – be careful not to dig through the water pipes/tubing ultimately causing the sprinkler head. Also, avoid permitting any earth/dirt belong to the pipework.)
There are probably two repairs more likely to be needed. The easiest repair is having to replace the sprinkler nozzle itself, which should just unscrew/screw into place. The riser on which it sits may down need holding firmly when replacing the nozzle.
If the riser itself has failed it's easily replaced. The bottom of the riser will have a coupling that is a quick adaptor which fixes it to a 'quick coupling' saddle in the water pipe/tube. This should pull apart quite easily permitting you to replace the riser.
When buying an upgraded riser make sure it matches the ones in the others of one's body. The height of the riser can differ from 3 or 4 feet to over 12. Then you'll have to buy a complete replacement unit if the riser will not launch from the saddle.
Lawn Sprinkler System – Other prospective Issues
In the event, that the whole of your lawn sprinkler system fails or its performance that is overall suddenly off the issue is most likely using the filters or pump. Problems with filters are invariably fixed simply by frequently cleaning them. In case your lawn sprinkler system has a reservoir from where the pump runs any split or break in the reservoir lining will lead to an inevitable drop within the performance regarding the sprinkler system. Dependant on the material lining the reservoir; impact a repair the same as you would to any yard pond or pool.
Problems with all the pump itself need certainly to be treated with a little more caution. Being a device that is electrical water, you're best leaving any electrical problems to someone properly qualified. However, before giving the pump away for fix you can check that the problem isn't simply a gland that is leaking a shut-off valve or a leaking seal/gasket in the pump itself.
Bestseller No. 1
Melnor 65074-AMZ XT Turbo Oscillating Sprinkler with 2-Way Adjustment and QuickConnect Product Adapter Set, Amazon Bundle
20 Precision rubber nozzles provide maximum coverage of a large lawn or garden up to 4, 500 sq. Ft.
Twin touch adjustment controls the width of the watering pattern to cover the whole yard or a narrow flower bed
Infinity turbo drive provides a smooth operation for even watering and extended life
Quickly connect and disconnect the sprinkler with an included Quick Connect Product Adapter (Requires Quick Connect Product End Connector sold separately)
Backed by the Milnor Limited Lifetime . Melnor stands behind its products
Sale
Bestseller No. 2
Hinastar Lawn Sprinkler,Automatic Garden Water Sprinkler,Upgrade 360 Degree Rotation Irrigation System,Large Area Coverage,Sprinkler for Yard,Lawn,Kids and Garden
[36 ANGLE SPRAY NOZZLES]:Hinastar sprinklers for yard built in 3 adjustable rotating spray arms,need 21.34 PSI WATER PRESSURE to spin AT LEAST,if there are any dissatisfactions or any issues , please click #sold by Hinastar#, then #Ask a question# to reach out to us,we will do our best to resolve.The garden sprinklers are increased by 24 units than the old lawn sprinkler versions. The yard sprinkler is a more powerful irrigation tool to provide a better watering effect for your yard
[COMPATIBLE HOSE ATTACHMENT]:The Yard sprinklers are compatible with threads hoses and traditional hoses.This version of the garden hose can be used directly.Come with a quick connector fitting to work with your traditional rubber hose.Hinastar water sprinklers for lawn are made with high-quality plastic,ensuring excellent use experience. All designs of water sprinklers are to satisfy more efficient and economical irrigation
[POWERFUL COVERAGE DISTANCE]:Give your yard maximum with 360 degree rotation.Under 40 PSI water pressure,the lawn sprinkler still has 24-32 feet irrigation diameter range.The water pressure is higher, the water distance is further.Under 60 PSI water pressure,the sprinkler for lawn still has 36-49 feet diameter range. Hinastar water sprinkler for yard will not leave many dry spots so it can keep your lawn and plants in a better condition
[MULTIPURPOSE AND EFFICIENT]:Garden sprinklers can be used to water your yards,outdoor lawns,fields,vegetable gardens,farms and so on. You can also adjust the sprinkler nozzle patterns or the faucet to irrigate larger areas or small areas.As a water sprinkler for garden and yard, it can also be used for garden and kid entertainment. Hinastar lawn sprinklers can be used as a fun sprinkler set for children to play or cool down on hot and sunny days while watering your lawn.
[IMPORTANT NOTICE]:The garden sprinkler needs 21.34PSI for spin at least & the Spray Distance depends on the nozzles mode & water pressure.Please don't screw the spray head into the base TOO TIGHT.Each nozzle arm needs to be switched and locked into position and hear a CLICK sound which means it is in the right place.More detailed information about Yard sprinklers is contained in the Instruction Book
How to Repair Your Lawn Sprinkler
Materials and Tools:
little shovel
spade
easy-out pipe removal tool
toothbrush
cup
gloves
risers
sprinkler minds
plumbers' tape
Procedures:
1. Excavate around the malfunctioning sprinkler head or heads making use of little shovels. Be careful perhaps not to harm any buried pipes, and take away the bit that is last of making use of your hands.
2. Remove the sprinkler riser and head. Utilize an "easy-out" pipe removal device to get rid of the riser.
3. Inspect the riser for damage. Usually, once they're damaged, it's because someone unintentionally stepped in the sprinkler head.
4. Replace any elements that are damaged. If you wish to replace a sprinkler head, make certain to get the one that sprays in the pattern that is the same as the old one.
5. Before installing a riser that is a new place the ends with plumber's tape.
6. Scoop out any water within the hole using a little cup. Clean the spout in which the riser attaches employing a brush.
7. Install the riser that is new making use of care not to ever strip the threads. Continue fixing any other malfunctioning sprinkler heads. Don't reinstall sprinkler heads before the functional system is purged.
8. Turn the water on and purge the machine. Replace sprinkler heads, fill in holes, and turn to test the system.