Mantis Tiller Review – Makes Light Work of Yard Work
Any homeowner who enjoys gardening knows a tiller is a nice tool to have. But if you've ever nearly put out your back trying to lug a heavy tiller in and out of the garage or shed, it's time to consider the lightweight Mantis Tiller, this Mantis Tiller Review article with tall about the Pros and cons of Mantis and Why you Should Buy Mantis for your Lawn care works.
Tilling the garden is a great way to keep your plants healthy and the soil fertile. So use for it a Mantis tiller.
Mantis Review for Light Work of Yard Work
A tiller, also known as a soil cultivator, is generally best known for its use in breaking up hard soil and turning it to make way for fresh, organic soil. This allows new plants a healthier start. The Mantis Tiller can also be used to remove weeds and should be able to weed a 30′ x 40′ garden in 20 minutes.
Unlike a large tiller, the Mantis Tiller is so lightweight – coming in at around 20 pounds – you can carry it with you in the yard and simply set it down where you need it to work. Large, old-fashioned tillers are so heavy gardeners often report having to drag the tiller to each work location.
Mantis 5222 Power Tiller Dethatcher Attachment for Gardening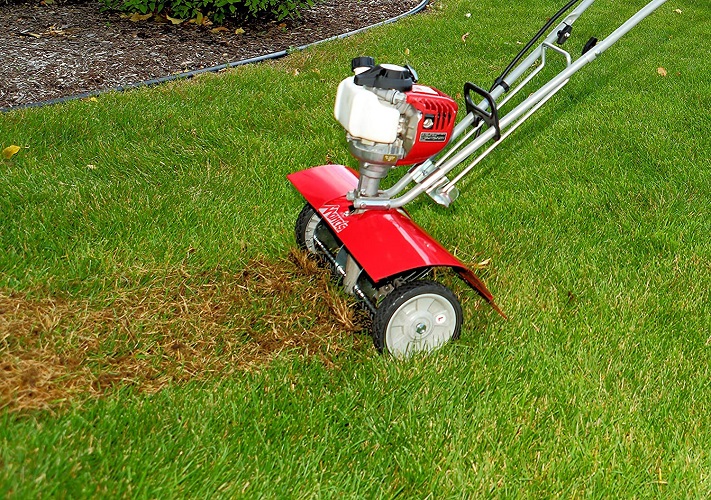 Mantis Power Tiller For Lawn Care
The Dethatcher Mantis 7000 Series Strawberry lawn rake easily attaches to the Mantis 7000 Series cultivator
60 tips made of soft and robust steel to lift straw and weeds deats a 15″ strip in one pass with results that simply surprise you.
Not compatible with Mantis XP or Mantis 3550 and 3558 models.
Storability
The old tillers often take up a fair amount of room in the garage or shed, while the Mantis Tiller has fold-down handles that make storage a snap. Thanks to its smaller size, the Mantis Tiller can also be taken from one yard to another in a trunk.
Tillers can be rented by the hour or day, but most homeowners who have a garden usually consider purchasing their own tiller, and the best-selling Mantis Tiller is usually at the top of the list. Thanks to its lifetime guarantee on the tines, there's little chance you'll have to replace your Mantis Tiller anytime soon.
According to the company, the Mantis Tiller can cut through hard sod, compact dirt, or tangled, overgrown weeds. Some other suggested uses are: digging holes to plant new trees or shrubs; turning and mixing debris in compost piles; breaking ground for new garden plots; edging lawns and gardens; aerating lawns; plowing furrows for planting potatoes and onions; and cultivating and weeding between rows in existing gardens and around plants.
The original tiller that is 2-cycle introduced back in the 1980s, had been treated as one thing of a gimmick with regards to the first arrival. Most gardeners which are keen particularly men thought it was not likely to be up to the task and preferred to stick to pressing their trusty old and heavy machines around. Fast forward years which can be a few now everyone, men and ladies, young and old alike just love their Mantis tillers. We hope our Mantis tiller review proves useful to you.
Features
If you just wish to know what most of the features are on the 7940, we've got that list the following:
25cc Honda engine that is 4-stroke
Weighs 24lbs
Up to 240rpm rate that is tine
Throttle control on the handlebar
2 x tines
The maximum depth that is working of
9" width for tilling
Reversible tines to select cultivating or modes that are tilling
Tiller may be used to dig holes that are planting shrubs
Solid worm gear drive that is direct
Manual recoil starter
CARB compliant and EPA certified
Some assembly that is moderate
Soft grip handles that are folding ergonomic design
Effortless air conditioning filter access
Folding kickstand
Attachments plow that is including yard aerator available as accessories
What safety equipment should I get?
Read the manual carefully to familiarize yourself with all the current security guidelines first. We recommend you get the following safety equipment as you are going to be working having an item that has some sharp blades going around extremely fast, then. Nearly all of this could be used whenever using any garden energy tools actually so really are an investment that is good.
Reinforced toe-capped boots will be first on the list because they shall protect your feet from the tine blades when they're moving at extreme speeds.
Next would be ear protection as even though the 7940 is quieter than a 2-cycle machine, prolonged exposure to the noise it generates could lead to damage that is hearing.
Eye protection is next on the list as stones and debris could easily be thrown up from the fast tines that are moving. A pair of wide-view safety goggles must do the trick and comes into play very handy doing other jobs across the home.
Next, a good pair of work gloves can help protect the hands from injury and from nerve damage in the hands and wrists if you have anti-vibration gloves will help protect you. It is a problem that is well-known for people who utilize a saw regularly for long amounts of time.
Lifespan and Warranty of Mantis Tiller
Mantis tiller is well known for its capacity and durability. Each tiller is powered by a forceful Honda engine, which is incredibly easy to start. The feature of the Mantis is equipping with two or four-cycle engines that are powerful enough to plow up the hardest soil layers. Both the engine size does not require a mixed gas, so fueling mantis tiller is very simple. Additionally, the Mantis Company produces an electric model, too, which is even easier to use.
The Versatility of Mantis Tiller
Mantis tiller is a quite versatile instrument. Today, it can be used for various purposes not only in the garden but also for your lawn. Mantis tiller is often used to plowing the soil before planting. Plow the soil twice a year can be a time-consuming process, Mantis tiller helps facilitate it and tines easily penetrate to the soil up to 10 inches deep, despite its hardness. Even the rocky soil yields to the pressure of this device. If you want to make a flower bed in your garden or in the yard, a mantis tiller will plow the soil as soon as possible. It is also useful for mixing compost, cultivating weeds, and aerating the lawn, as well as creating a garden's or lawn's border. In addition, the Mantis tiller helps you to plow a trench to plant rows of flowers or vegetables and helps to make grooves for planting trees or installing garden' fixtures.
Check Price & Read Reviews on Amazon!
Customization and Attachments of Mantis Tiller
The mantis tiller has several attachments that can be mounted on the handlebar for custom work. Steel plow makes it easy to create rows. The rows can be deep or surface, depending on the kind of plants which will occupy the territory. It is easy to plant vegetables such as potatoes, onions, and other plants that grow deep into the soil by using the steel plow. Another useful attachment of the mantis tiller is a loan dethatcher, which helps to rid your lawn of weeds. Dethatcher also helps control the number of insects and provides drainage for your lawn. One more attachment is the Mantis tiller lawn aerator, which refreshes the soil.
Image
Product
Price

Mantis 3222 7000 Series Tiller Border Edger AttachmentBest accompagnement tool

Mantis is an excellent system. This edge is garbage. Literally all he does to the grass is hit him and make a line on earth. Do not cut off dirt. I could probably have my chainsaw and blindfolded to do a better edging job. Return to the rope, trimming the edges.

Price

Sun Joe TJ603E 16-Inch 12-Amp Electric Tiller and Cultivatorbest Deal

THE DIRTY SECRET OF THE BIG GARDENS. Dig and experience the only rudder that really lives up to the task! Introducing a greener and cleaner way to get dirty with the Sun Joe TJ603E Electric Rudder

Price

Earthwise TC70125 12.5-Amp 16-Inch Corded Electric Tiller/Cultivator, GreenBest Choice

The land cord cultivator is a reliable gardening companion that starts every time, provided it is properly plugged into an electrical outlet. It has a compact and planet-friendly design that makes the mosaic quick and easy.

Price
Why Mantis Tiller?
Because it is a machine that has everything to make your lawn, garden, or rows of vegetables and flowers healthy and helps them look better. Mantis is a handy and mobile instrument and it is easy to manage compares to large cultivators which are bulky and clumsy. Any person will be able to manage it, including older folks, who are also trying to keep their gardens well-groomed. Regular plowing is an important part of maintaining of the garden. Mantis tiller makes your garden healthier, gives it a fresh look which you can enjoy. It also has a 5-year warranty and in case of breakdowns, the company will replace all the details for free during the warranty period.
The final on our list is always to make sure you wear sensible clothes whenever tilling. No shorts, sandals, or anything floaty and long which could get caught in the tines.
Product Name
Best Choice
Mantis 5222 Power Tiller Dethatcher Attachment for Gardening
Mantis 3222 7000 Series Tiller Border Edger Attachment, Steel
Sun Joe TJ603E 16-Inch 12-Amp Electric Tiller and Cultivator , Green
Image
Best Choice
Product Name
Mantis 5222 Power Tiller Dethatcher Attachment for Gardening
Image
Product Name
Mantis 3222 7000 Series Tiller Border Edger Attachment, Steel
Image
Mantis xp Tiller – Mantis 7940 4-Cycle Gas Powered Cultivator
Get to the fun part of gardening faster and easier than you ever dreamed of! Easy to start, quiet and fuel-free, the 4-cycle Mantis Pendulum Tiller weighs only 24 lbs. It is one of the lightest small growers you can buy. With a premium four-stroke engine powered by Honda, this lightweight engine is tough enough to penetrate compacted grass and soil, but is easy
to transport, easy to start and easy to use.
Forget old growers: this labor saver features soft, grippy handles that are ergonomically designed for fatigue-free operation. Infinite speed means you can feed your rudder on demand or work more smoothly when the situation calls for it. Digging by hand or renting a huge, unwieldy giant rudder is no fun!
Live the garden of your dreams! The Mantis cultivator faces heavy projects, such as breaking established lawns and compacted soil or digging a planting hole effortlessly. The unique curved tines (blades) can reach a depth of 10 inches. Then you can weed sensitive plants and seedlings with a simple twist of the spikes!
This is a garden tool that you will use throughout the season. Don't stop! Take this helm through almost any challenge! The Mantis cultivator is the tool you've been waiting for: the missing link in greenhouse-friendly soil every successful garden needs.
Practical, versatile and durable, the Mantis cultivator features foldable grab bars that make it easy to store in a garage or tool shed. An innovative gear design allows such a lightweight tool to deliver heavy performance. In addition, every grower that leaves our Southampton PA plant has been built with the user's lifetime service in mind.
The Mantis 4 Cycle Plus Tiller/Cultivator A review in fact
The machine was very easy to assemble. All we had to do was put on the handles, the stand, and the beards. And add some engine oil. Do not forget to add the oil!
The tips are reversible. One direction is for excavation and plowing, the other is for cultivation. Very easy to do, just pull the spring-loaded pins and move the teeth from side to side.
If the beards are covered with vines, weeds, or other garden debris, the problem is easily solved. Just drag the tooth and drag the tangled mess of the spindle. The paw! Older models did not have goat support.
This facilitates the storage of the rudder. The handles can be easily folded, making it even easier to store the machine. Light! This machine weighs only 24 pounds.
This is a big plus for people who don't have other garden tools that require 2-cycle fuel. Ordinary gas is all you need! The engine is a Honda® engine.
Very easy to get started! It runs smoothly and as quiet as a gasoline engine can work. I love the new soft handles and the throttle under the handle that works as smooth as butter. The on/off switch is right there, on the right-hand grip, in front of the throttle.
There are no bulky levers! No gears or gear selector to disturb Just start the engine and start working. Control the speed of the spikes with the throttle. Impressive
Check Price & Read Reviews on Amazon!
Follow us on: Twitter, Facebook, Pinterest, Instagram
Mantis Power Tiller Dethatcher
This machine has a 4-cycle engine! This means that it works only on ordinary gas, without mixing oil with gas. 2-cycle machines require a mixture of oil and gas fuel.