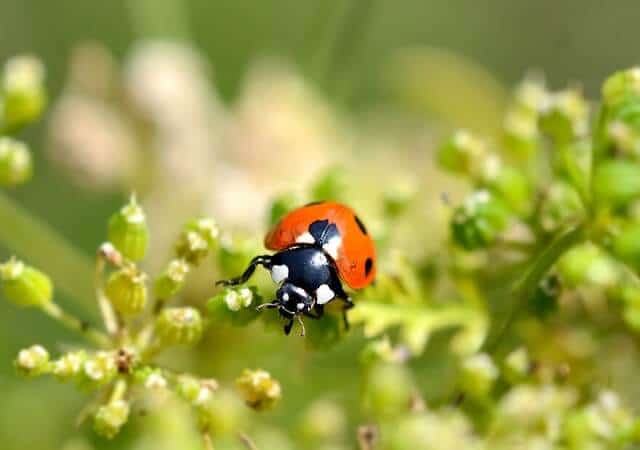 You have taken the time and effort to set up an organic garden to grow your favorite vegetables, fruit, herbs, and flowers. If you want to avoid using chemical pesticides then you will need organic pest control methods to keep out pests from your garden.
You can buy organic or natural products found on shelves at health food stores, garden nurseries, and your own pantry. Another option is to use garden-friendly bugs and bug eaters in the garden to maintain your garden.
A Hungry Toad In Your Garden
Keeping a hungry toad near your garden pond could help eliminate up to 10,000 insects in three months, so this option can be an effective form of organic pest control. Toads can eat larvae, snails and crickets, and flying insects like flies.
If your garden is infested with aphids, then you should buy a couple of ladybugs online or from a local garden nursery, as ladybugs love eating aphids. The aphids eat away at plants, shrubs, and bushes planted in your garden and anywhere around your front and backyard. One advantage with ladybugs, is they do not harm your plants.
Birds And Herbs In Your Garden
Another option for organic pest control is to attract a large variety of birds to your garden with bird feeders. A bird feeder can include feed with sunflower seeds, honey, and sesame seeds. Attracting birds like the wren can help to keep insects and creepy crawlies like spiders and caterpillars out of your garden. These birds can feed hundreds of spiders and caterpillars to their young during the day.
Herbs grown like basil and rosemary will keep petals on your flowers intact and will discourage insects from harming ornamental plants. You can buy basil or rosemary oil to use in your soil to keep insects away from your growing plants.
These are some of the methods used by organic gardeners, to keep pests out of the organic garden, with organic pest control.
Read More: How To Do Pest Control Without Damaging Your Garden
Little Known Bug Repellant Facts… What are bug repellants?
Bug repellants are actually any substance that is applied to the air, skin, or clothing so that bugs do not want to land on that particular surface. There is a huge range of different repellants that you can use to help prevent bug bites. Some of these repellants are marketed as organic or all-natural and are becoming a favorite choice among users.
Other repellants use chemicals to deter the bugs from landing and biting. There are also some modern devices that produce sound waves that ward off pesky bugs. Repellants have changed greatly over the years. Chemicals that were once common ingredients in many bug sprays or repellants have now been discovered to be hazardous to the humans that used them.
It is why so much research and study goes into every ingredient that goes into a can or bottle of bug repellant. The idea is to repel bugs but without causing any danger to those that use the repellant.
Sale
Bestseller No. 1
Ortho Home Defense Insect Killer for Indoor & Perimeter2 Kills Ants, Roaches, Spiders with No Odor and Fast Dry, 1.33Gal
Ortho Home Defense Insect Killer for Indoor & Perimeter2 provides a long lasting bug barrier of up to 12-month protection (against ants, roaches and spiders indoors on nonporous surfaces)
Kills home invading insects including ants, cockroaches, spiders, fleas, ticks, scorpions, beetles, earwigs, silverfish, centipedes and millipedes (as listed)
Insect killer for indoors (kitchens, bathrooms, doors, windows and basements) and outdoors (perimeter foundations, garages, patios and decks) dries in minutes for quick re-entry, leaves no residue and is odor free
Use anytime as a preventative treatment or after evidence of insect activity
Comfort wand provides one-touch continuous spray with no bending, pumping or hand fatigue
Bestseller No. 2
Ultrasonic Pest Repeller, Indoor Ultrasonic Repellent for Roach, Rodent, Mouse, Bugs, Mosquito, Mice, Spider, Electronic Plug in Pest Control, 6 Packs
Intelligent Frequency Conversion: press once for the first level, the frequency is 25KHz-65KHz, suitable for common pests. Press again for the second level, the frequency is 10KHz-15KHz, suitable for heavy pests (Note: the second level is working with external sound, it is recommended to use when no one is at home); press three times to turn off
Efficient Pest Repellent:2022 newest pest ultrasonic repeller that will help you get pests out of your home, office, hotel, warehouse, restaurant, cafe, BBQ place, backyard and apartment.
Eco-Friendly and Friendly: Throw away harmful poisons, hazardous chemicals and traps commonly, which always used in households and control technicians. Ultrasound is inaudible to humans and household pets. It is an eco-friendly alternative to harmful and dangerous chemicals, poisons and traps, no unpleasant odors.
Easy to Use: just plug the electronic pest control ultrasonic repellent in power sockets; it will start to repel the pests when the blue light on.
After Sales: If you have any questions, you can contact us directly. We will sincerely help you solve the problem.
Read More: Do Electronic Rodent Strobe Repellents Really Work
Best Natural Pest Controls
Anybody who has attempted to grow something in their garden will be all too aware that pests have a way of rearing their ugly little heads very quickly indeed! Sadly, the first response for many gardeners is to head to their garden shed and reach for the pesticides in order to get rid of their problem as quickly as possible. While this may be the quickest way to solve the problem, it is most certainly not the greenest! Pesticides can have an adverse effect on the environment, meaning that a quick-fix is not always the best remedy.
This is now finally being understood by those who make their living from the land; with nature in mind, many farmers are now employing integrated pest management techniques in order to protect their livelihood for the long-term – in essence, people are now making much more of an effort to strike a balance between protecting their crops and protecting the environment!
Fortunately, there are plenty of natural and organic methods that gardeners can employ when attempting to rid themselves of would-be garden invaders! Below are some of the methods of saving both crops and the planet:
Smells like trouble
many common garden nuisances (such as foxes) can be deterred with the employment of strong-smelling substances. The most commonly used substances that can be turned into a stinky "keep out" sign are garlic, fish, rhubarb and tobacco.
Hot heat
would-be garden invaders can be sent packing with the use of a little heat; this can include chilies, kerosene, methylated spirits, and even table salt!
Odor-Eaters
many readily available garden plants give off natural odors that can be extremely uninviting to bugs and other pests. This is nature's way of informing the bug that the plant probably carries some form of natural insecticide; it also lets it know to keep well away!
Get slick
commonly found oils can be a great way of controlling certain kinds of garden pests. Some tried and tested oils include mineral oil, vegetable oils, and proprietary oils. These can kill soft-bodied invaders by clinging to them and eventually causing suffocation.
Clean up your act
a little-known pest controller comes in the form of soap. Ensuring that the soap is natural and vegetable-based is the best way to make sure that it will not harm the plants as opposed to the pests!