Best Lawn Fertilizer Spreaders Reviews 2022
Types of Yard Fertilizer Spreaders
Generally, for the dry application (seed), two primary spreaders are rotary spreaders, known as broadcast spreaders, and another is drop spreaders. And the other is for the application of the liquid chemical.
1. Rotary/Broadcast Spreaders
If you own a tiny garden, a large estate yard, or anything like that, then these spreaders are the best choice for you. You can able to spread your dry materials fast, but you can not accurately do that. We have seen that it covers an area that is three times their width, or broader, on every pass. It works by a rotating base plate to disperse seeds or granules slowly from a hopper.
Read More: Best 07 Lawn Fertilizers Reviews
2. Drop Spreaders
Maybe you don't own a large lawn where you can make your garden. So if you want to work for a precise area, at that time, drop spreaders will be the best choice. It has a wide, narrow opening directly beneath the spreader to drop a swath of product. It is easy to control where a drop spreader distributes the product because it only falls between the wheels.
Read More: How to Have a Great Lawn – Guide for Lawn Care
3. Liquid/Spray Spreaders
Many times we need to spread liquid fertilizer and other liquid lawn treatments to maintain our garden. Two things are essential for the liquid/Spray Spreaders:
The correct proportion of concentrated chemicals in the water
You should not use it with the bare hand, because it is injurious to health.
To Success the Fertilization process we suggest the following factors you should consider:
Holding Capacity
It determines the relation between your size and how often you have to refill the spreader.
So we have seen that a handheld spreader is perfect for small lawns up to 1,500 square feet. A walk-behind spreader is ideal for when your property is medium size to 5,000 square feet.
If your yards are up to about 20,000 square feet, then you need a Large walk-behind spreader. It would be best if you went for a tow-behind spreader when the yard is more extensive than half an acre.
Spreading Capacity
During gardening, you need to spread various products ranging from seeds to fertilizer. It may include grass seed, pelletized chemicals, sand, powdered lime, and compost. So you have to choose your spreader based on the types of products it can handle.
Method of Operation
As we have earlier discussed, you can operate the spreading of seeds by broadcasting and droppings. Most of them are Broadcast because they offer a balance between speed and precision. There are various spreaders in various sizes, from small, hand-held models to extra-large spreaders that you can pull behind vehicles.
When you think it must navigate obstacles and narrow spaces, the best choice is Drop spreaders. It works exceptionally well on small to medium and intensively landscaped lawn.
Precision
We believe it is the most important criteria you should consider during your purchase. Why do we use this spreader?
Because we can't attain a better precision if we use a hand. Though all the lawn spreaders can deliver better precision, there is a comparison with which we can choose the best one—the two essential criteria based on which these can be discussed are accuracy and speed.
We have seen Drop spreaders are precise but slower, and on the other side, Broadcast spreaders are a bit less accurate but faster. Liquid spreaders are not exact, but it is quite fast.
We found that manufacturers calibrate the drop spreaders for a consistent flow rate. As a result, it spread a thin band directly beneath the hopper, situated between the wheels.
Thus Drop spreaders are the most precise ones. In the case of a broadcast spreader, to deliver a steady flow rate, you need to walk at a consistent pace for even coverage. Our observation is that manufacturers calibrate liquid spreaders in liquid spreaders to accurately mix the amount of concentrate per gallon of water. You need to control the coverage.
Best Fertilizer Spreader Reviews
1. Agri-Fab 45-0462 Push Broadcast Fertilizer Spreader
We will start with commercial fertilizer spreaders. Earth Way is the best option for it. It can hold up to 40-lbs of fertilizer, enough to cover 30,000-square feet. There is a manual crank arm that the operator turns to disperse the granules. You will get a comfortable operator shut-off switch on the handle. It features a power-coated chassis that is robust and reliable. The harness is comfortable as well.
The challenging thing is to get used to walking around with 50-lbs strapped to your shoulders, but you will get into it later on. The spreader can be used to spread fertilizer, grass seed, or ice melt, and it comes with a rain cover included in the box.
Agri-Fab 45-0462 Push Broadcast Spreader
Product Feature
Rustproof poly container
Strong pole entryway control
Encased shape and incline gearbox. Gathered Product Dimension (L x W x H)- 48.0 x 27.1 x 33.6 Inch
Pneumatic tires
Discretionary Pro Kit with shield accessible
Pros
Features with high-capacity
Provides rain cover for operator protection
Features with mechanical crank operation
It is portable with shoulder straps
Cons
No guarantee.
Not suitable for a small garden.
Verdict: Agri-Fab 45-0462 Push Broadcast Spreader
This is suitable for landscaping professionals and when you need to fertilize large areas.
2. Scotts Wizz Hand-Held Spreader
The funny thing about this spreader is it's like a Kitchen appliance. But don't be a fool about that. It is the only battery-operated fertilizer spreader in this review. It will be worth considering.
If you are a senior and feel tough to push a more massive machine, then this will be the best choice for you as it's easy on your joints. So with one time filling up the hopper, you can cover 2,500-square feet of the ground. You are recommended to use the 24-dispersion speed settings for the best accuracy.
Scotts Wizz Hand-Held Spreader with EdgeGuard Technology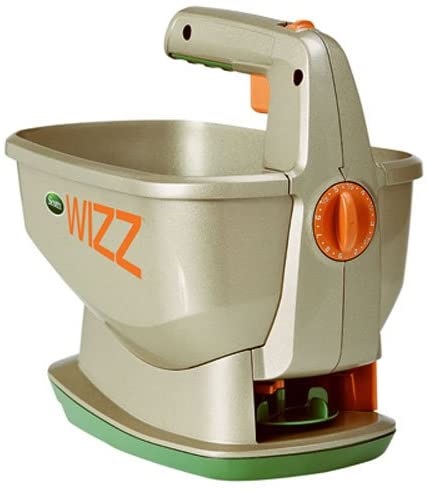 Product Feature
Battery-controlled spreader you can utilize all year—intended to spread grass seed, yard manure, and weed control items
Intended to conceal to 2, 500 sq. ft. utilizing Scotts grass care item
5-foot broadcast with control of EdgeGuard Technology
Our most exceptional spreader yet, controlled by 4 AA batteries with 23 settings for superb exactness
Ideal for grass seed, compost, and weed control items
If you own a lawn around small condos, apartments, and cluster homes with flowerbeds, then this model is the best solution for you. We are providing you the photo with the review It comes with an edge guard to prevent you from spraying fertilizer into your flowerbeds. Ife guaranteed you we promise you will offer you the best accuracy for your spray. So if you think your budget is to spare, it will be an excellent choice.
Pros
Efficient in operation
It is suitable for medium to smaller gardens.
It is battery-powered
It is compact and handheld.
Cons
Maybe flimsy design
It has no warranty
It could be cracked due to cheap plastic housing.
Scotts Wizz Hand-Held Spreader with EdgeGuard Technology
The battery-powered, compact, and portable unit is the best choice for you if you are a
senior with mobility issues and want to fertilize anywhere around your home.

3. Agri-Fab 45-0463 Tow Fertilizer Spreader
As it has the prefix "Agri" with itself, you can easily understand that this is relatable with the agri-sectors. It is the best choice for commercial fertilization when the Earthway fails to do that. It would help if you had a monster of a machine. So let's introduce the ultimate solution for commercial fertilization, with a staggering 130-pound capacity in the hopper. You need to hook this unit up to a tow bar on a truck or tractor, and it will wheel along behind you.
Agri-Fab 45-0463 Tow Fertilizer Spreader
Product Feature
130-pound container limit saves time topping off on bigger real estate yards"
The sturdy bar connected on-off control with exact settings". Flexibility
Encased stuff box with tightened gears for spreading and long life"
Enormous breadth tires with wide wheelbase for soundness on the more unpleasant territory"
Discretionary container cover, material redirector, and container grind accessible"
It works by engaging the driveshaft in the gearbox and spinning the dispersion disk under the hopper. As the hopper is steady, its dropping action ensures the adequate and consistent spreading of granular fertilizer. The large, air-filled tires make your task easy, and you can tow this unit with little effort. The hopper is also suitable for dry running.
Pros
Three years of warranty
It is best for use on large estates and farms.
It is easy to control and maneuver.
Professional agricultural design
It is a massive 130-pound fertilizer capacity.
The best for use on large estates and farms
Long durability with robust design and construction
Cons
It is not suitable for handheld operations.
Agri-Fab 45-0463 Tow Fertilizer Spreader
This is for a large estate or a farm. Just tow it behind a tractor and do your job
efficiently.

4. Scotts Turf Builder 76565 Classic Drop Fertilizer Spreader
When you own a more extensive garden and lawns, then obviously drop spreader is the ideal type. Through Turf Builder's hopper, you can able to cover 10,000-square feet in one session The hopper of the turf builder requires manual operation.
It would help if you pulled the trigger, and it will wind two long plastic spreaders that disperse the fertilizer underneath as you walk. This is perfect for spreading scattered lawn seeds, dispersing fertilizer, or even ice melt. This model is an affordable option for the gardener.
Scotts Turf Builder 76565 Classic Drop Fertilizer Spreader
Product Feature
The huge limit container holds up to 10,000 sq. ft. of Scotts yard items, including grass seed and compost
Substantial edge for ideal steadiness
22-inch spread example conveys the most extreme inclusion and exactness
Completely gathered
Prepared to utilize and pre-adjusted
Pros
Precise operation
It has a large capacity to cover big gardens.
It is heavy-duty and designed for extended service life.
It is fully assembled, arrived at using, and calibrated.
Cons
It has large wheels with more width.
It is not suitable for smaller gardens.
Scotts Turf Builder – Classic Drop Fertilizer Spreader
The right choice for accurate coverage if you own small to medium-sized gardens

5. Spot Hand Spreader Shaker 
If you love more styling and functionality from your home gardening tools, the spot hand spreader is the ideal solution. The neon green and black color scheme will create an eye-catching look for you. It will look more like a travel coffee cup than a fertilizer spreader. It will support up to a maximum of 80-oz of fertilizer. So this ideal hand spreader will make it stylish for your balcony garden.
Spot Spreader Hand Spreader Shaker for Seed, Fertilizers
Product Feature
Solid * Durable * Easy to Use * Simply Pour Your Materials from the Larger Bag into the Screw Top Container and Spread as Much as You Like
Ideal For Pouring Large Salt and Seed Bags in the Spot Spreader * Efficient Use * Lightweight * Stores Easily with Strong Handle
Not any more Over Spray and Wasted Salt/Seed/Fertilizer * No More Stray Grass from Crank Spreaders * Easy to Salt Driveways and Walkways
Different Adjustable Openings for Use of Any Material You Need * Large Version * Up To 80oz
Pros
It is lightweight and handheld
It is compact and portable
Cleaver design with front lip
There are adjustable holes to control fertilizing.
High durability design with long service life
Cons
It is not suitable for large yards.
Verdict- A perfect choice for balcony gardens, small yards, and indoor use.

6. Scotts Whirl Hand-Powered Spreader
It is the perfect spreader if you own small yards. It provides maximum comfort as the whirl is engineered to deliver smooth and even product coverage with adjustable arm support. You can use this whirl to feed, seed, weed, or apply ice melt.
Scotts Whirl Hand-Powered Spreader
Product Feature
Ideal handheld spreader for little yards
Extraordinary for all year use to weed, seed, prepare, and apply ice liquefy
Designed for smooth, even inclusion
Flexible arm uphold gives the greatest solace
Holds up to 1,500 sq ft of Scotts yard items
Pros
It holds up to 1,500 sq ft of a mix.
With the great handled spreader
It is engineered to provide an even spread.
There is arm support for comfort.
Cons
It is not ideal for the most extensive garden.
Verdict
It is perfect for the small yard owner so if you have a little backyard or small garden you can use this product

7. Solo 421 Portable Chest-mount Spreader
So if you are a garden lover and owner of a home garden, this is the best choice for you. You can use this to fertilize your lawn or flowerbeds. A chest-mounted system fills in the front with a plastic reservoir up to 20-lbs holding capacity. There is a unique harness system to reduce the load and spread the weight of the unit across the operator's body.
Solo 421 Portable Chest-mount Spreader
Product Feature
Fingertip switches control course and volume
The huge opening permits simple filling and cleaning
20 lbs Capacity container with cap shields administrator from synthetic substances and Dust
Producer: SOLO
Pros
It is a lightweight sm operation
There is a portable device for easy control.
Precision spreading functionality
There is a screw-cap for operator protection.
Cons
It is limited to carry volume
There is no warranty.
20-Pound Capacity Portable Chest-mount Spreader with Comfortable Cross-shoulder Strap
verdict-A lightweight, versatile spreader that's ideal for your apartment garden use
Fertilizer Spreader FAQ
Here are some questions we have gathered to remove any sort of confusion
Is fertilizer useful for my garden?
It's a good idea in the late spring and throughout the summertime. Plants need feed to become stronger and bloom harder. Plant fertilizers involve the use of nutrients like potassium, phosphorous, nitrogen, and other fertilizer feed.
Read More: Best Different Types of Lawn Fertilizer Spreaders
How do fertilizer spreaders work?
Most of them have a manual operation. There is a spray dispenser to help you evenly dispersion fertilizer onto the ground in liquid format. There are some high-capacity spreaders for throwing granules out at a distance, much like a sprinkle. You also have the option to hook up the mobile spreaders to trucks and tractors and drag them around your fields.
Can I Use Both Liquid Fertilizers and Granules in my Fertilizer Spreader?
There is various sort of models with different functions for both liquids and granules. An excellent example will be the handheld units that use both types of fertilizer chest-mounted spreaders can be a perfect example of dual-based, but most only work with granules.
Conclusion
A fertilizer spreader is essential for your gardening. It is suitable for your health as well as decreases your effort in doing your gardening. Please consider the criteria mentioned and find out the best spreader for your garden according to your need.