DIY Reglazing Sink or Bathtub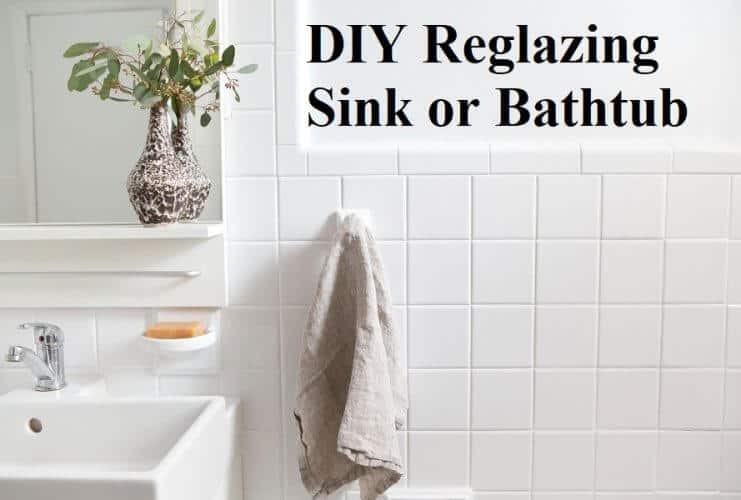 One thing that most homeowners will need to do from time to time is to reglaze a bathtub, sink, Outdoor garden sink, or toilet. DIY reglazing is much less costly than hiring a professional and the results can be just as pleasing.
Reglazing a bathtub is one of the more common uses for this skill, and DIY reglazing will save a bathtub from needing to be replaced, which can be extremely costly. Reglazing a tub to cover any stains or chips can also add value to a home.
Setting Up
Before starting a DIY reglazing project, it is a good idea to remove any loose particles from the bathroom that could be damaged, stowing them in cabinets or out of the room. This includes items on the walls, towels, and any decorative items.
It is also very important to be sure that the bathroom has adequate ventilation. If there is no window in the bathroom, or it can not be opened, a ventilation system can be rented and set up prior to beginning the project.
If you are starting a DIY reglazing project on a bathtub, any trim plumbing located near the bathtub will also need to be removed. These will include the spout, showerhead and the overflow cap. The caulking and grout that borders the bathtub will also have to be removed. Make sure to remove any mess from the removed items to make sure that they will not settle into the new glaze.
Use an industrial-strength cleaner to clean out the tub, then rinse and use a 120 grit sand to remove anything that may be stuck to it. Dry the tub thoroughly, then wash the bathtub out with hydrofluoric acid, letting it stand for about 10 minutes. Then rinse with cold water, wash with the industrial cleaner again, then dry. There should be no moisture left anywhere.
[mlink subhd="Red" link="BEST TYPES OF OUTDOOR SINKS "]BEST TYPES OF OUTDOOR SINKS[/mlink]
Reglazing the Bathtub
The bottom and ledges of the tub should be filled carefully with a body filler. This may need to be repeated several times, depending on the condition of the bathtub. After the DIY project is over, any access body filler would be difficult to remove, so be sure to apply it correctly.
Before going any further with your DIY reglazing projects, mask the floor and all of the bathtub borders with wide masking tape. Anything else in the room, including sinks, vanity, etc., will need to be covered with plastic sheeting. When everything in the room is securely covered, and the body filler.
Read More: How to Create Your Own Garden Bathroom
Priming
Once it is smooth, clean everything with a shop vac and then tack cloth the entire bathtub. An epoxy product should then be used to prime the bathtub. This should then be left to dry for as long as the label suggests.
Glazing
Tack cloth the bathtub again. When this is done, it is time for the DIY reglazing. The glaze will have to be applied with a spray gun according to the manufacturer's suggestions. When it has been applied, clean out the spray gun and leave the new glazing to dry overnight.
The next day, the fixtures can be replaced, and the masking tape can be removed. The borders of the bathtub will need to be re-caulked and re-grouted. Before using the bathtub, be sure that the glaze is dry, which can take as long as 48 hours.
Refinishing Tub and Sink
I have used Homax Tub and Sink Refinishing Kit up to a porcelain bathtub that could have otherwise required replacing.
Application of porcelain refinishing services and products requires prep that is significant an unusual timeline for application.
TSP and 000 steel wool are accustomed to break the glass on the porcelain that is existing.
This step requires scouring that is seriously changing metal wool pads frequently.
During this stage that is prep shine a light across the bathtub and goes back over any areas where you see light reflecting off the area.
Your goal should be to dull the interior that is entire of the tub until the light will not reflect … anticipate spending 1.5 – 2 hours on this step alone.
Thoroughly rinse the tub times that are several freshwaters; until the water is clear and shows no indications of debris.
Allow the area to dry entirely.
Use painter's tape to mask the drain covers and tap.
Mask the walls which are surrounding plastic at the very least two-feet all around … more is safer.
Apply a very first coat of spray on the bathtub that is entire.
This can be an application detail that is unusual
Most sprays say recoat after 30-minutes.
However, the Homax Tub and Sink Refinishing Kit say, "Apply your coat that is second within."
This enables the two layers to bond wet-to-wet and creates a thicker, more powerful coating.
Guidelines carry on, "If the second layer can not be applied within 30-minutes, wait for 72-hours and prep again before using the second coat."
Results:
The kit ended up being discovered by me personally become precisely what Homax described.
The cost was avoided by me of changing the tub.
The coating that is new be cleaned with standard bathroom cleaners.
And, as expected, the coating lasted roughly four to five years before needing another application.
NOTE:
The earlier mention that the solvent is really potent is exactly right.
Have your family members and animals out of the home for half a while spraying day.
Wear the respirator that is best you can pay for.
And, set a timer that is 25-minute ensure you begin your 2nd coat on time, and leave the building while you wait.
Difficulty Scale:
On a scale that is ten-point, ten is most difficult, I would personally rate this task as a nine for two reasons:
1) Prep requires scrubbing that is severe produce an area to that your new finish will adhere well; and
2) the odor that is extreme the solvent will absolutely make you light-headed if you stay in the region too much time.