Beautiful Landscape Design Ideas For Backyards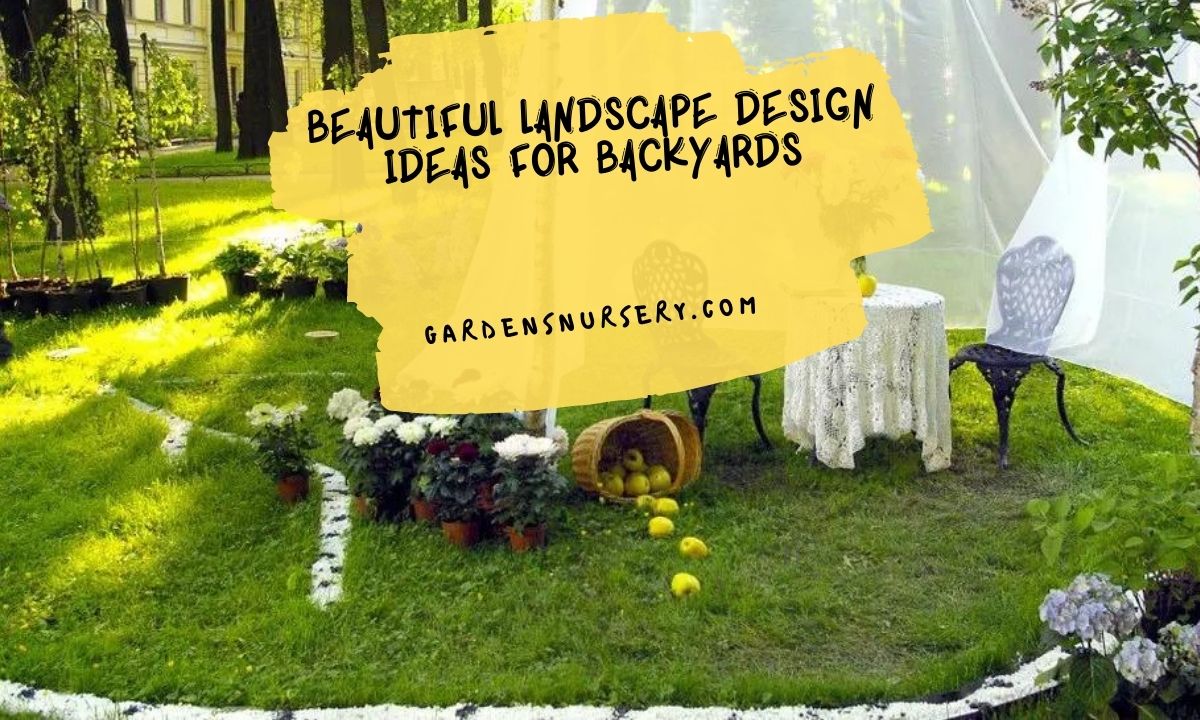 Design outdoor landscaping, principles of landscape design including landscaping and backyard design ideas. The fundamental principles of landscape design are balance, sequence, contrast, repetition, and proportion.
Following are the first principles of plan landscape design, you should use the balance in three ways.
Landscape Design Ideas – Balance
Symmetrically
When viewing the landscape from any point of view, you will typically perceive the central point of reference from which you consciously or subconsciously define a right and left side. The central point could be a front door, a fountain, a walkway, a swimming pool, a field, a building, or a housing development. If the areas to the right and left of this central axis contain exactly the same elements, then the balance is symmetrical.
Asymmetrically
Equally weighted objects with different elements on each side of the central axis are said to be in asymmetrical balance. For example, if your patio is centered on the rear of your house, you could plant it using precisely the same shrubs, flowers, and/or statuary on both sides, or grace both sides with identical trees, shrubs, and ground cover.
This is considered asymmetrical balance and has a very formal effect. If you use a diverse arrangement on the left than on the right, such as a large tree underplanted with low flowers on one side and taller flowers and several shrubs on the other, it is considered asymmetrical balance and has a more informal effect and is part of the principles of creative landscape plan design-build.
Radially
A less frequently used type of balance in the landscape is a radial balance which is also part of the principles of a landscape design plan. This refers to an object for which no right or left can be defined, such as a body of water, theater-in-the-round, or a circular garden. In this sort of arrangement, balance the weight equally all the way around the feature.
Landscape Design Ideas – Sequence
Sequence refers to movement, something that either physically or visually moves you through landscape design ideas. Plants and structures should be set to offer the most comfortable transition from one point to another. It could be as simple as moving your eye from low plants in the foreground to taller plants in the background or as complicated as engineering the entire surroundings to move you through a wonderland of experiences.
Proper sequencing is part of the principles of landscape design and will blend beautiful arrangements of plants, people, traffic, and structures into the surrounding landscape design. There are three types of sequences used in the principles of landscape design. You can get some great ideas from American Landscape Structures.
Circulation
The line of circulation helps the mood of the garden design. Use curves for a meandering mood. Straight walkways imply movement, which is the most useful to get from point A to point B. People tend to hesitate where there are intersecting lines in the landscaping. Therefore, the point at which two walks come in concert is a good place to innovative design seating in landscape architecture.
Movement
Consider ways of moving your eyes through the garden. Position plants to catch your eye and keep your visual curiosity. A tree with a low-mounded pattern and lacy foliage such as the Cutleaf Japanese Maple is sure to catch your eye. Use low plantings along the front of the maple and mass taller plants behind it to keep visual curiosity and sequence the viewer from low to high.
Design the plants to direct the viewer toward some features, such as the doorway of the house, a pond, or seating in the garden landscape design. Plant shrubs that have a visual interest to draw the eye to the rear of your home as well. Try massing the Smoke tree in the back of your property to create seclusion. It forms a shrub mass with deep maroon leaves and a pubescence after flowering that looks like clouds colored red by the sunset.
Read More: Indian Paintbrush and Other Spring Flowers for Your Landscape Design
Progressive Realization
One tremendous way to draw the viewer through sustainable landscape design is with progressive realization. Place an array of plants to partly block the view or carve a path out of sight, and you will entice a viewer through the garden. This phenomenon has been used by garden landscape designers in Europe and the Orient for hundreds of years and is becoming favored by the genre of the American garden designers' service landscape design certificate.
Far-reaching research has been conducted on the way progressive realization draws you through the garden and is part of the free-picture idea.
Contrast
A little contrast is good; too much is confusing and is part of the principles of landscape architecture design services. One or two elements introduced into the landscaping that differs entirely from the existing elements in color, texture, or form will create an interesting contrast to your design landscape program. For example:
Bring in one Blue Atlas Cedar against a background of much greener Jack Pines and you will make the color of the cedar a dazzling contrasting element.
Create an attractive contrast in form. Plant a single horizontally spreading shrub against a backdrop of plants with an upright growth habit, which makes the spreading habit stand out in the foreground.
One plant with coarse texture (large leaves), such as a Horse chestnut, would stand out among many finely textured (small leafed) plants such as a hedgerow of upright Yews.
If you must cut down a tree, chain saw it into a sculptural element or saw out a seat. It will make an appealing conversation piece and a contrasting element among the other trees. This characteristic could stand for many years as an extremely interesting garden element and is a part of the principles of landscape design.
Landscape Design Ideas – Repetition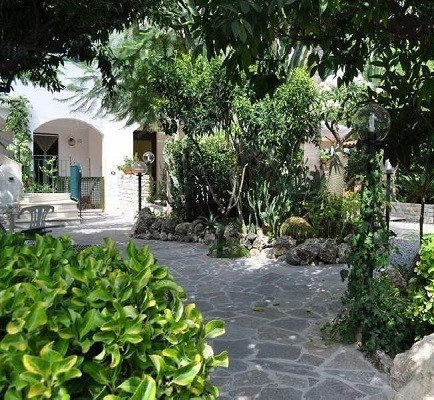 Repetition of the same or comparable elements in design tends to encourage harmony and reduce confusion in the landscape design ideas and is part of the principles of a landscape design competition.
This rule applies to the uses of color, texture, plant varieties, building materials, and any other design elements. It is a well-known fact within the design profession that repeating the elements of design tends to reduce confusion and support harmony. This principle holds true: landscaping, paving, planting, or absolutely any element of the design is all part of the principles of landscape design.
The following are several ways to use repetition in your landscape design work and follow the principles of landscape design:
Before going to the garden store, draft a design and tie collectively the elements
When you are at the garden store, curb your desire to have one of everything. If another plant strikes your fancy, substitute several of these in place of other plantings. Don't plant one of each plant.
Make it a practice to repeat the same plants or plant groupings in your yard
You don't want a monogamous planting. Use just enough assortments; too much will be confusing and detract from the aesthetics of the backyard.
Use a unifying element
A single assortment of low-edging plants around all planting areas will assist unify your yard. Unity reduces confusion and promotes harmony in the design. Repetition of the same type of edging, fence, walk, ground cover, or wall on the home also makes an excellent garden unifier.
Make anything you are designing appear as though it belongs there
Do this by repeating the theme. If you design a flower garden, repeat those flowers in other raised beds. If you plant a rock garden, repeat the theme of rocks in other areas of your home. If you design mixed shrubs, use the same mixture again elsewhere.
Landscape Design Ideas – Proportion
The landscaping design ideas should bring the architectural elements (by professional architects' landscape design) into proportion and bring you into harmony with the surroundings which is part of the principles of landscape design. These principles of landscape design hold for commercial as well as residential projects. Plants, seating, patio furniture, bridges, pond, arbors, walks, entries, pavilions, etc., should always be scaled to sizes that are easy for people to use.
For residential landscaping design ideas, separate spaces can be thought of as Outdoor Rooms
The areas don't always have to be small. Depending on your individuality and interests, areas could be open with a large lawn and superb vista or small and enclosed. Large areas might appeal to socially outgoing persons. Small-enclosed gardens may be preferred by private, introspective people.
The following are ways of using plants to bring otherwise awkward spaces into people-sized proportions.
Shade Trees
A canopy of large trees will do more for enclosing an outdoor space and bringing it into human proportion than everything else you can plant. No other element takes up the space between the ground and the firmament quite as well as shade trees. They provide a ceiling outdoors and give a sense of enclosure from the elements.
Island Plantings
The two-dimensional "foundation planting" of shrubs next to the house can improve the looks of some older homes and offer some energy preservation, but they don't improve the home so much as islands of plantings. Trees and shrubs can add an extra element or expansiveness to your property if planted away from the house.
They can also reach their full ornamental potential, will be more in proportion to the overall property, and will tie the house into the yard. The lawn is not the only way to fill up your yard. Remember to use your entire yard for designing and to follow the principles of landscape design skills.
Flowers Planting
Other than annuals and a few perennials, plants are in flower no more than 12 % of the year. Consequently, they should be planted so that they are in proportion to their environment and can develop to their mature size in order to develop to their full potential.
Medium to large flowering trees such as Saucer Magnolia or Yellowwood should be located some distance (15'—35′) away from structures.
Smaller flowering trees such as Stewartia or Kousa Dogwood could be used closer to or near a patio or sitting area (6'—12′). Use medium-sized flowering shrubs such as Iroquois viburnum as a background to set off small trees.
Low flowering shrubs, including Kurume Azaleas or St. Johnswort, can be planted two feet to six feet from the observer. Interplant the low shrubs with annual and/or perennial flowers.
Some shrubs should be selectively pruned to flower at eye level or below. Roses are perfect when grown to a height where you can notice the colors and fragrance as you walk by. The fragrant and colorful flowers on Chinese Lilacs are best if they flower at about five feet to sixty feet in height. Without pruning, lilacs usually grow too tall and leggy to be prized by a person. For accessibility, prune hedges to no more than eight feet to ten feet in height and four feet to five feet in width. Proper plant placement keeps pruning to a bare minimum.
Select Plants by a Concept
Pick plants for the way they fit the scale of your home and backyard, not just by name or for their flowers. State the criteria they should meet. How tall will they get? What are their requirements (light, soil PH, Soil, moisture, irrigation requirements), and of course follow the principles of landscape design?
Backyard Landscaping Tips and Ideas
Homeowners tend to pay more attention to their front yard's design than their backyard. True, it's on the frontline in adding beauty to your home's exterior but there are merits in making sure your backyard gets properly landscaped as well.
With a good design idea in mind, proper planning, and quality construction, you can make your backyard space an excellent multipurpose area for entertainment, recreation, and relaxation.
You don't have to stress out too much on the cost once you decide to overhaul your backyard since there are many ways to tackle a landscaping project building while sticking to a budget. After all, you can always go for a DIY approach, but more on that later. Right now, here are helpful landscaping tips to get you started on your backyard design.
Come Up With a Landscaping Design
Before you can transform your backyard into an enjoyable space, it's important to first come up with a design. It doesn't matter if your backyard space is small or big, there's always a design to fit your requirements.
Know that inspiration is everywhere; you can go online and browse for backyard landscaping tips, read home/yard decorating magazines, consult a landscaping artist, involve your family or friends in the project and gather their suggestions, or perhaps, take a quick look at your neighbor's yard for concepts.
Nowadays, many homeowners go for unique and playful themes while others stick to a traditional, laid-back vibe. It's ultimately up to you how you would want your backyard to look although it's recommended to have everything in cohesion and in proper placement.
Read More: Sustainable Gardening For An Eco-Friendly Backyard
Go with Quality Materials for Low Maintenance Landscape
Expert landscape professionals recommend timeless backyard designs. To do that, you have to buy durable yet low-maintenance materials. Be sure to canvas several reliable suppliers in your area and compare their prices before making a purchase.
Because backyards commonly come with a garden (landscape maintenance), you may want to consider growing organic food and herbs. Organic produce is expensive to purchase so if you have some in your own yard, you can definitely save on your food shopping expenses. Start by growing those that you and your family eat the most.
Complete your Backyard Landscape Architecture Project in Stages
Don't rush landscaping; doing it in stages is more beneficial not only to your budget but also to your backyard's design.
A backyard overhaul is naturally costly, even if you're doing it on your own, you will still be spending a rather large amount of money to turn your yard into a functional and impressive space. When you do it one step at a time, you will find time to recuperate your expenses and save up for the next addition – a swimming pool, a barbecue grill, a decorative pathway or maybe a fountain.
Also, a phased completion will give you the chance to step back and check out your progress. You may have invested enough planning time and effort into your design but still, it's advised to break free from the project every once in a while. It would allow you to notice design flaws you will probably miss if you're too absorbed in finishing your Outdoor backyard's landscape design ideas.
Read More: How To Make Your Small Yard Feel Spacious
Inspirational Small Garden Design Ideas
Looking for inspirational Small Garden Design Ideas?
This small charming urban garden is packed with different ideas. Note the undulating, curved brick wall which gives movement to this small space garden.
There are also built-in brick seating areas. The first one is accessed via a small arch and is situated next to a small water garden filled with water plants and fish. The
a second built-in seating area is tucked away on the far side of the garden providing seclusion for the owner.
The outcome of clever planning by the designer is a spacious small garden with two built-in seating areas, a water garden as well as two separate dining areas, and space to spare!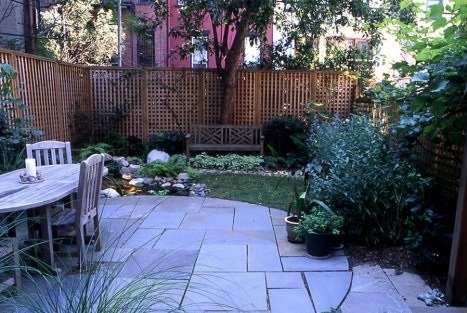 The planting beds allow for generous planting and give height and atmosphere to this Small Garden.
This small enclosed garden is enclosed by a lattice fence, giving not only character but also privacy and shelter.
The informal roundness of the patio is repeated throughout the garden in features such as the water garden, the pebble bed, and the arc of the lawn just beyond the patio.
Note how the designer has included a small waterfall at the far end of the water garden, and how the water garden joins up with the patio.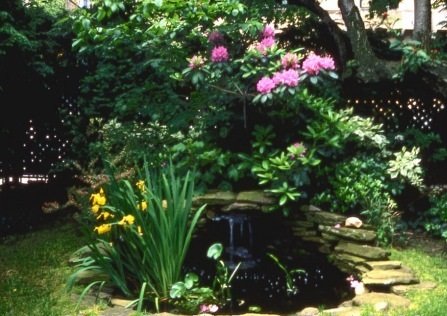 This small, long, narrow garden has been divided up into three separate Victorian garden rooms.
The first informal garden room is accessed from the house via a two-tier timber deck. The stone bench, planter, and paving in this informal garden room are of similar color and texture and are also found in the second and third garden rooms, giving the impression of continuity.
The rose arbor leads onto a larger garden room, which in this case has been utilized as an informal dining area.
The third garden room is elevated from the second by means of a low stone wall and has been planted densely, not only for screening but also for visual interest. The semi-formal water garden is built of the same stone echoed throughout the garden and serves as a focal point.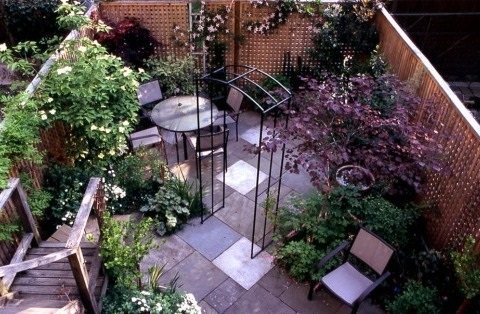 A Sophisticated Small Garden is divided by an iron arbor creating two rooms, while also adding interest. Seating areas (also made from iron) have been provided for in both garden rooms creating uniformity.
A terracotta tub garden has been planted to create visual interest.
The garden is enclosed with cedar lattice which is shrouded with climbers at the back and sides. Bluestone and granite paving flow through both garden rooms, which are planted for pleasurable outdoor living.
What ideas can we take from the above garden?
Small Gardens made be made to seem larger by creating rooms, but remember one must be able to see through the rooms into the rest of the garden. The cedar lattice creates a light frame for the garden and is softened by climbers. The designer has used sophisticated colors – burgundy, white, green and silver, with plantings of pink next to the iron arbor and a climber on the rear cedar lattice – the pinks blend well with the burgundy.
A luxurious haven has been created, surrounded by a stone wall supporting lush plantings and a water garden with aquatic plants.
A patio allows for dining and entertaining, all in one small space! The patio has been dotted with pots of color (including a hanging basket) which provides visual interest. The designer has also used an interesting mix of foliage, from deep greens to pastels.
And last but not least, a wrought iron bench not only provides extra seating but also a view of the water garden. I must admit – this is definitely a favorite of mine!
This small space was designed for outdoor living and gardening pleasures. Divided into three rooms, it accommodates an open area in the front, a seating area in the rear, and a pergola to the right. Raised beds and the use of the color blue (garden furniture and glass blocks in the pergola) provide continuity throughout this garden. Different-sized pavers outlined by bricks, unify the hardscaping of the brick walls.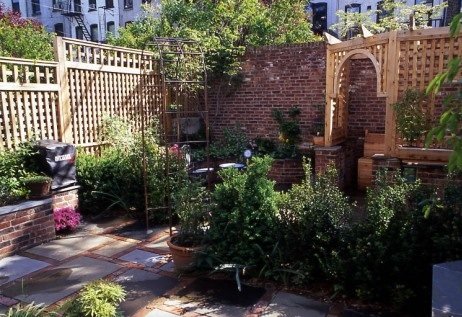 The pergola is appealing as it is set at the back of the garden allowing for complete privacy. A wall fountain is situated to the right of the pergola, gurgling into its surroundings.
This Small Wild Romantic garden includes many pleasing features such as an Artesian well, which spills into a stream flowing into a Koi pond. Gravel paths lead through hundreds of species of wild romantic plants accompanied by the sound of water spilling from small waterfalls.
Small Garden Design Simplified
Small Garden Design SIMPLIFIED! Design YOUR OWN Small Garden with useful tools such as the Garden Design Guide, our Online Plant Encyclopedia, or a selection of Small Garden Designs. The designs focus on Theme Garden Designs. Choosing your Small Garden Accessory also plays an important role – to make sure you select wisely. And for those dedicated gardeners wanting to simplify the process of design, we have listed useful Garden Design Software.
Need help designing your Small Garden? The Garden Design Guide is here to assist! We help you bring your WHOLE Garden Design together. From ascertaining your needs, and choosing the style, shape, balance, and proportion of your garden to putting the design together with selected colors, materials, and plants.
Designing a Small Garden takes considerable thought and planning. Only certain trees, shrubs, and plants are suitable. On the whole, there are factors that need to be considered when including any specimen in your small gardens, such as the overall width and height, as well as the colors and textures. These need to fit into whatever style you have chosen for your garden. Make sure you visit Online Plant Encyclopedia before you begin planting – an extremely useful tool!
The following theme garden designs are particularly suited to Small Gardens, and can be applied to your garden no matter how small it is! Formal Garden, Informal Garden, Cottage Garden, Herb Garden, Romantic Garden, Indigenous Garden, Modern Garden, Mediterranean Garden, Japanese Garden, Fragrant Garden, Plant Lover's Garden, Container Garden, Vegetable Garden, and Wild Garden. Not forgetting…
those gardens, lend themselves to a theme because of their structure. Such as a Courtyard Garden, a Balcony Garden, a Rooftop Garden, a Patio Garden, and a Raised Bed Garden. The list is almost endless… as endless as your imagination. As, with the correct plants and infrastructure, you can create any theme or design imaginable.
Need a Small Garden Accessory suitable for your Garden? A word to the wise – select with caution! Sleepy won't miss the other six dwarfs – in such a small space one needs a bit of quiet! The point is, DON'T cram your small space with everything you fancy, no matter what their relation! Restraint is advised. Some Small Garden Accessories suggestions…
And for those dedicated gardeners wanting to simplify the process of designing their Small Gardens, we have listed useful Garden Design Software. I can't vouch for you, but I really dislike designing on paper. Re-drawing, erasing, etc., it's just not for me! Give me 'easy to use' click-and-drag gardening software any day!
We hope to cover all Backyard landscape design with this Creative ideas …