Top Beautiful Front Yard Landscaping Ideas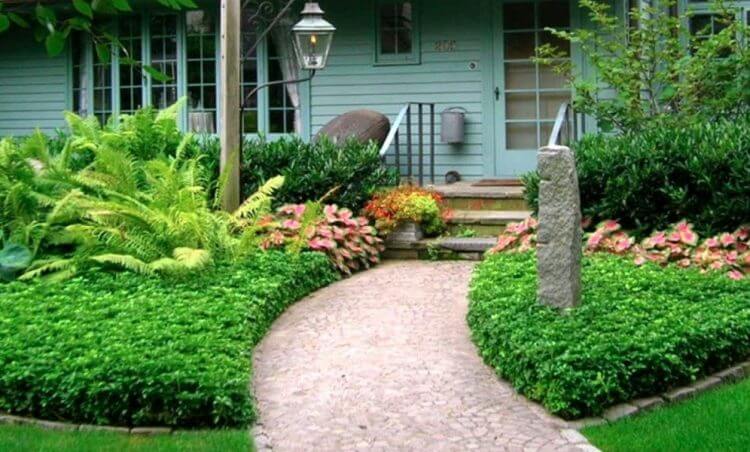 The front yard provides an entrance to your home and creates curb appeal. You can easily express yourself and your home in a decent manner with the help of front yard landscaping. If you want to make an impression of a warm welcome, you should have attractive front yard landscaping. One should feel comfortable while entering your home.
The front yard of your house makes the first impression about you. There should be colorful flowers in your garden in the front yard. These flowers can be lined along a sidewalk or the path to your door on the porch. Flowers planted in nice beds around your front door are sure to be a pleasure to any first-time visitor.
Your front yard should be properly bordered with shrubs and trees. Shrubs play an important role to make things look neat and organized. However proper care is required to maintain the shrubs. You can consider using fruit trees or dogwood trees also in your front yard which may spread sweet and pleasant fragrances for you and visitors.
Porches are considered an important place by many people. How the front porch can be made beautiful depends upon its dimension. Benches and tables may be used to create an inevitable and warm look and to add comfort. For making the look of the porch more charming, you can consider plants and flowers to add colors and depth to your front porch. In most gardens, a climbing path is made so as to make a railing or archway.
Your sidewalks or paths must be kept neat and clean and well maintained. In most homes, sidewalks made of concrete or other kinds of decorative stones or rock are considered the best. You can make its central point of your front yard. A little pond in the front yard can be a peaceful addition to your paths or you can plan a fountain with some bricks or stones as borders around to have a classic appearance.
Read More: Best 5 Common Tips To Improve The Health Of Your Front Yard
Some more ideas for landscaping your front yard are as under:-
Making your front yard secure using walls to add privacy, creating a grand entrance with a wide walkway and arbor, and replacing the lawn with a meadow planted with ornamental grasses and other natural plantings.
Turning a front yard into an outdoor entertaining space, complete with an area for seating and a fire pit.
Planning for vehicle circulation and parking, creating a beckoning walkway to your door, and accenting the front entry.
Making provision for typical front yard landscape dimensions for entry gates, driveways, walkways, walls, and water features.
Creating privacy to separate a front yard from the road and neighbors.
Making the driveway easy and comfortable.
Making the front yard serve as a place to relax with friends and family.
Designing a front yard well suited to your house or bungalow.
In nutshell, sincere advice for landscaping the front yard of your house is to always keep it uncomplicated. It should not look like a tropical forest or it makes visitors feel like they are confused to search for your front door. It doesn't matter what design you select for your yard, just make sure you keep it neat and in a hygienic condition so that you are pleased every time you walk on the path to your front door.
Looking for amazing front yard landscaping ideas and suggestions?
There is truly no place like home. It is where the essence of our life is nurtured and grown. Every part of the home, therefore, is special to us. Everything right from the tallest of roofs to the smallest of bricks is equally important.
Why then should we compromise on the way our front yard looks? Why should we not have a beautiful front yard built using some really good front yard landscaping ideas? Why cannot we have a front yard that should be the pride of not only our home but also our neighborhood or colony?
The advantages of well-designed, neat front yards
For one, it makes the house looks better. Not only does 45% of the exterior look and design of a house come from the way its front yard looks; a good front yard makes the house feel much better. Our front yard landscaping ideas aim to do just that. Also, surveys have stated that almost 33% of homes with unkempt, untidy front yards put guests off. This means that a bad front yard is not only trouble for you; it is trouble for those who come in to visit you.
A front yard designed based on good front yard landscaping ideas is also a plus for all business companies and organizations. A bad front yard, unlike a bad backyard, is much more dangerous. It spoils even a very well-designed, good-looking building and turns clients away psychologically.
Front yard landscaping ideas can turn things around. If you have a front yard that's been uncared for or if you plan on changing it, all you need to do is contact us. We will make sure that your front yard will soon be the benchmark against which all yards are compared.
Front yard design ideas – doing what we do best
We would like to make our intentions clear. Firstly, we are not providing front yard landscaping ideas for money or profit. The importance of a well-kept front yard or the satisfaction that owners get when they see their own front yard looking beautiful and comforting is music to our ears. We specialize in remodeling the front yard.
This means that if you have finally decided to get rid of the old look and build a completely new front yard that will give new life to your home, we are the people you need to contact. Our front yard landscaping ideas coupled with our excellent faculty will in no time turn your old, rusty yard into a yard so amazing, people will want to come and live on it. No matter what the size, no matter what its location, all you need to do is contact us. We will bring in the front yard revolution for you with our amazing front yard landscaping ideas.
We also have built a network of organizations, and all parts of the landscaping business have graciously agreed to provide necessary things for a front yard at great discounts.
Remember, any home deserves a good piece of land to complement it. And with our front yard landscaping ideas, you can be assured of getting only the best.